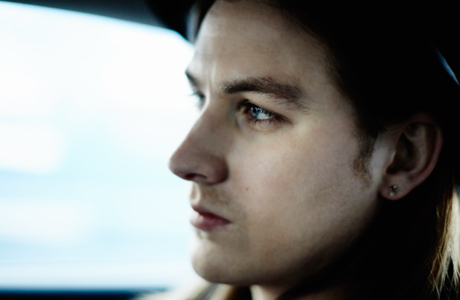 Call it a rock 'n' roll Ellis Island: BBC AMERICA's New York office is now a first stop for British singers and bands on their way to conquering America. We're inviting those tour-weary Brits in for a moment's rest, offering them the home comforts of tea and biscuits, and getting them to open up about their dreams, fears, and just how much they miss a proper morning fry-up. And the very first artist to pop by and sign our BBC AMERICA wall is the modern-day bluesman and singer-songwriter Jamie N Commons. Prepare to hear a lot about this guy in the coming months.
Adele, Mumford and Sons, and One Direction have made it look easy recently, but "breaking the States" remains one of the most daunting challenges for British artists. With 300 million residents and countless platforms, America is a far more competitive landscape than the U.K., where support on BBC's Radio 1 can launch a talented band or singer to the A-list.
But Mr. Commons seems unusually equipped for the task at hand, boasting the backing of major U.S. label Interscope. Born in Bristol, England, he moved to Chicago as a small child and soaked up The Allman Brothers Band, the O Brother, Where Art Thou soundtrack, and Moby's Play. Taking those influences back with him to the U.K. as a teen, he taught himself guitar and honed his budding musical talent with classical training and open mic nights where he shared bills with Mumford and Sons and Laura Marling. He developed a traditional blues rock sound with modern, hip-hop flourishes, which can be heard on his newly released EP Rumble and Sway. Here's his performance of the title track on Conan:
https://www.youtube.com/watch?v=9BDB_00-07Q
It's easy to hear why Elvis Costello's a fan and why he was nominated on BBC's Sound of 2012 list: his beautifully bruised baritone, which calls to mind gruff vocalists from Eric Burdon to Mark Lanegan, belies his 24 years, and his backing band's tight musicianship blends with the beat-heavy production from collaborators like Alex da Kid (best known for work with Eminem and Nicki Minaj). It's a cunning, Mumfordian mix of the gritty and the polished, the rootsy and the radio-friendly.
When Jamie came through the BBC AMERICA office, he was fresh off his first-ever U.S. gig in New York and was prepping for a stint at South By Southwest. We chatted about his British-American roots, why young musicians should put their computers away for a bit, and why he wears his trademark hat.
Anglo: What was it like to spend part of your childhood as a Brit in America? Were you teased mercilessly for your accent?
Jamie: When anyone asks me what school was like in America, I always go, "Have you seen Mean Girls or something? It's like that times ten because you're actually there, and it's not funny." First day of school, I walked in, I was like seven, and the teacher introduced me, "This is Jamie. He's a new student." And the three popular girls came up to me. "Oh, hi. You're the new student?" I went, "Yeah." And they heard my accent, and they looked at each other like "Oh, you're one of those." Turned around and walked away. And I was like "What?!"
American school is hard, but I'm really glad that I spent time over here. I know I met some amazing Americans from that time that I still keep in touch with. I also think it gave me a take on kind of the rhythm. Everyone in England just thinks America is England with American accents. And it's just really not that at all. It's a completely different rhythm, a completely different outlook, and I think Americans have more positivity about them. I'm glad I had that opportunity growing up to kind of soak that in. And I can kinda be a bit of a chameleon, I guess. Adjust the conversation to to each kind of rhythm.
Anglo: How did you develop your voice over the years? How much of that just comes naturally? I know you trained in opera.
Jamie: I tried to emulate people that I liked, like Gregg Allman from The Allman Brothers Band. He was always my favorite. The stuff he did with his voice was amazing. People like Joe Cocker. Taking a bit from Ray Charles and a bit from Tom Waits.
And, you know, the male voice doesn't really fully develop until you're 23, I think. So, I'm settled now, you know. It took me years and years to figure out how to [sing] without destroying my vocal cords.
You gotta train every day. With doing opera and stuff, you gotta really project the lyrics. You got face expression, movement, and everything to think about the lyrics as much as that kind of stuff. That kind of deep, rich bass, baritone thing is just one tiny movement in your throat away from that kind of Johnny Cash thing.
I got really disillusioned with it, though, with the whole culture of classical music. Just bitchiness. The weird little hierarchies that, like, every little step has. My first year of college just kinda started drifting away from it and out of love with it really. But, you know, it did set me up perfectly for moving on to what I do, so.
Anglo: How did your song "Lead Me Home" end up in the Season 3 promo for The Walking Dead?
Jamie: That was a really fun story actually. I was out with Alex when we were experimenting for like a month, and my manager was coming over and said, "I'm meeting with a few TV people." [He was meeting Thomas Golubic], the guy who did the music for Six Feet Under and does Breaking Bad and Walking Dead. He goes, "He's looking for original tracks for Walking Dead." And I watched the first series, and I was like, "Ah, I f***ing love that show. I haven't seen the second series, though." So they sent me over the tapes of that, and I saw it. I was going from the studio to the hotel room, and the first night was one, maybe two episodes. Then the next night, I was like two or three more. And the day after that, was just staying up all night watching. Just got really into it.
I didn't really write anything until the day of the meeting. My manager called me up in the morning was like, "We're meeting with this dude." I completely forgot about that. I just kinda sat there and it came to me that the whole premise of the show is them trying to find a home. They're just in transition, trying to find a home. [So that led] to the lyric "Lead Me Home."
https://www.youtube.com/watch?v=1LQxH30WoWo
I was just kind of singing around it and wrote the vocal hook in the hotel. Then went in the studio, picked up the guitar. Came up with a little riff. And in my head, I was like, I'll just record this. So, just did two, three takes of it with just me and guitar. Sent it over to my manager who was already ten minutes into the meeting. [The guy] loved it, so that was that. It was one of those one in a million times when you write the song, and you write it in ten minutes, and it's done. If I could write every song like that, that would be a dream.
Anglo: You have a signature look with your hat and coat. What influenced your style?
Jamie: My sister bought me a hat for my 19th birthday, and I've never really taken it off. (laughs) I don't know why. I have no idea. I just started wearing it one day. Got it for my birthday, put it on my head, and just never taken it off. It got to the point if I go out of the house without it, I just feel like something's wrong. It's like I've got OCD or something. There's something missing.
Anglo: You met Elvis Costello, who is a big fan of yours. How was that?
Jamie: It was really early on. We'd just signed our publishing deal, which was luckily championed at A&R at Universal by Caroline Elleray. They gave us an advance, which meant that we could spend a lot more time developing before we needed to get another cash adjustment. So we had a year and a bit to play around with the sounds and get the band together. I was talking about trying to get different styles. And Caroline said, "Why don't you do an Elvis Costello cover?" I think she'd just been in a meeting with him that day.
I chose this really weird song ["15 Petals"] that was off one of his newer albums. It was an album track that I really liked I thought I could do something with. I did a recording of it, and she sent it to him. And he said he really, really liked it. I think choosing a really obscure track was probably worked in my favor that way because every artist has an album track they really like.
He invited me down to his album launch a couple years back, three years ago, maybe. Just met me after the show, and he kicked Roger Daltrey and Chris Difford out of the dressing room. He was like, "Oh yeah, come in." It was great. I think we talked about steam trains. Something really weird like that.
Anglo: What advice do you have for young people who want to become musicians?
Jamie: Don't record anything. Everyone's got Logic on the laptops because it's $100. And you can make radio ready songs on it.
I think everyone's learning production way too early rather than getting the basics right, you know. And I'd be the same. Like, I think I – my generation, and specifically my age – I'm 24 – is the last time you'll get kids sitting in the bedroom for six, seven hours at a time playing guitar. Because I know if I had an iPhone when I was, you know, whatever 15, I wouldn't have sat in my bedroom just playing guitar. Or if I had had more than five channels on the TV, I probably wouldn't have done it. Or Internet.
Just really nail the basics and forget about production until you've got something really tangible. Learn the instrument, too, because it's always something you can fall back on. Rather than learning how to fix it on the computer before you can actually do it. Just learn how to do it straight up. It doesn't matter how good you get at Logic. It's never gonna be as good as just some guy with a guitar who can really play his instrument.
The same with singing. You never — no matter how autotune or time changing you do on it — you're never gonna be like "Drown in My Own Tears" by Ray Charles, [which] just sounds so human and natural in just one take. Yeah, have an understanding of technology, but everyone else is doing that as well. Separate yourself from the crowd, which you've gotta do as a musician if you wanna make a career out of it. Just do the complete opposite to what everyone is doing. If you've got the same skills as everyone else then you're competing against everyone. But if you've got skills that no one else has got, then you're playing your own game.
Read More
Filed Under: