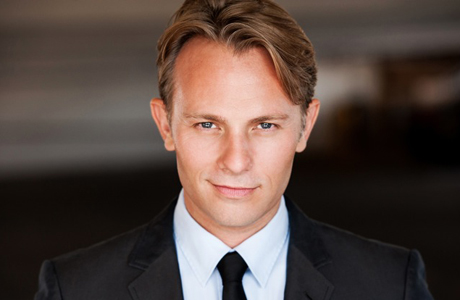 Every year, thousands of Brits come to Los Angeles looking for their big break. British (and Scottish, Irish and even Welsh) actors seem to do exceptionally well here, but it's also true to say that the vast majority — even with that James Bond or Sean Connery accent — fall between the high of megabucks per movie and the low of going to endless auditions.
Craig Young falls happily in that middle ground. He's been here since 1999 and has credits that include Hawaii Five-0, NCIS: Los Angeles and Fringe, though many in the U.K. might remember him from several years on soccer series Dream Team.
He's definitely "worked" (as they say), though it's for something else that most local Brits know him: he's the co-founder, CEO and front man of Brits in LA, a super-friendly organization for expats that bloomed into a thriving social and online networking phenomenon (currently over 2,500 "Likes" on Facebook and 1,939 followers on Twitter).
He recently spoke to Mind The Gap about coming to Los Angeles, admitting that on arrival he "instantly fell in love with the place," though his initial impressions were similar to those that many Brits have when they first land in the City of Angels:
"I was fascinated by how big everything is here and how welcoming all the people are, but at first it was a little off-putting. Why are they being so nice, what do they want? Seems like they are disingenuous. But you soon realize that it's not that at all. They mean it when they ask 'How are you?'"
He quickly added, "Though obviously not everyone here is like that. There are a lot of opportunists." But then he said that his favorite thing about living in L.A. was the variety.
"Two hours drive you are in the desert, and two hours the other way up in the mountains skiing."
He then explained that Brits in LA was started organically after he met Eileen Lee, his business partner and "work wife," and got hooked into the Internet: "We both had a lot in common and had a lot of mutual friends, and people would always ask us to look after their mates when they were coming into town. And when Facebook started we decided to put it online and set up a community where ex-pats could share information, offer advice and make connections – of all kinds."
The Brits in LA group is not a free-for-all though. It's a private closed community that people must request to join only if they have a friend in the group, a tactic that allows them to protect their members from "any idiots, troublemakers and/or stalkers!"
Young says that "patience and community spirit" was the magic ingredient for the success of Brits in LA, and he believes that people's lives have been genuinely changed through joining. In many ways, it really is a beacon for newbies in town: "I think its success to date really is because there is a sense of belonging and a familiarity that people who have moved away from home crave. Also, we have a lot of members that aren't British (their slogan is 'You don't have to be British, you just have to like us!'), which we love and welcome. Who else will tell us how great we are and ask us to say 'aluminium' again and again?"
It wasn't all easy going, though — and many of the problems came down to filthy lucre. They couldn't afford the things they wanted for their members (events, parties, etc), so Young says that as they grew their brand, they looked to partner with other companies that shared their "idea, ethos and sense of adventure," so that events became free, and they could "make them feel as at home and special as we can."
Scrolling through their Facebook posts, it seems that many new Brits in L.A. face some common problems: visas, questions about driving licenses, where to buy/rent a car, and where to get British passport-sized photos. The site also has separate groups for housing and selling, vital things that Young says are popular in their own right.
As such, his years on Brits in LA have given him some pearls of wisdom for Brits about to take the plunge and come to Los Angeles:

1. Come over for a couple of weeks to test the waters and research areas of where you would like to live.
2. Rent a car so you get used to the driving – and the way others drive out here!
3. Make friends with maitre'd's and the door guys at the clubs!
Young does miss things about the U.K. though, and – unsurprisingly – one of them relates to the weather. A balmy 70 degrees all year round is great, but he does occasionally hanker for changing of the seasons. He also misses the arts scene — L.A. has some interesting museums for sure, but it's no London – and finally, one particular edible item. "Gravy!"
One of the biggest days for Brits in LA happened very recently, just a few days before the Oscars, when their held their own parody event, The Toscars. Young spoke to the BBC about it: "We went to see Be Kind Rewind with Jack Black. In the film they make all these remakes of films like Ghostbusters because Black wipes all the videos in this shop where he's working. We thought that would be a really funny idea to go out and do that for all the Oscar-nominated best picture films."
It quickly grew into a theater event, and the competing teams have three days to make their short on a budget of just $250. Celebrity judges have come on board too; this year, it was Eric Roberts, star of The Pope of Greenwich Village, brother of Julia, and a real Academy Award nominee for Runaway Train in 1985.
As for the future of Brits in LA, Craig, Eileen and their small team are setting up a membership program scheme that offers discounts all over L.A., and they're planning to host a baby shower in honor of a "certain royal baby due later this year!"
Brits in LA can be found at their official website/, on Facebook, and on Twitter.
Better still, come to their regular "Breakfast Club" at Cecconi's Restaurant every Tuesday and Thursday, when for a cost of $15/$18 you can meet everyone (and there's Marmite and HP Sauce too!).
Brits, what's your experience out in Los Angeles? Tell us below:
Read More
Filed Under: