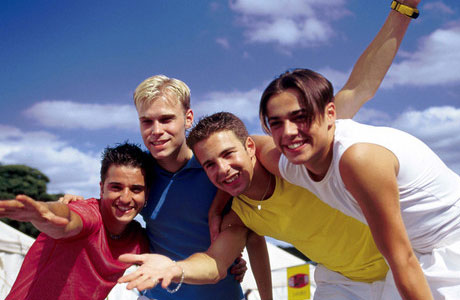 Let's not mince words, there will always be a space (quite a large space at that) within popular music for handsome young men singing songs of teenage passion that are predominantly aimed at teenage girls. To oppose that fact or ignore it is to throw away a good 50 – 70% of the engine that drove 20th Century recorded sound.
Granted, the machinery around that engine has become so incredibly muscular and refined that listening to modern chart pop can be a little like taking a Formula 1 car to the shops to get milk — fun at first, then scary, and you're aware of the damage you could be causing to your immediate environment and you'll feel very guilty afterwards — but One Direction, The Wanted, even grumpy old Justin Bieber all have their place.
This lot, however, had to fight harder than most to hang on to theirs, and for one simple reason: not all boybands are bad, but that doesn't mean all of them are any good.
A1
Leaving aside the hard-to-Google aspect of their name for a moment, the trouble with A1 is they mucked with the formula. For reasons of stage symmetry and pop economics, the best number of people in a boyband is five. A1 had four. Traditionally you need one member that looks like he'd be working the dodgems at a carnival were he not singing (or pretending to sing) on stage. The Donnie Wahlberg, the AJ Wossname from the Backstreet Boys. A1 chose to buck that trend. And it's often a good idea to have witty song titles, maybe with a slight double-meaning in there, but nothing too confusing. A1 had "Summertime Of Our Lives."
Luckily, there are places in this world – Asia and Norway being two examples – where fresh thinking like this does not preclude massive success. And having stripped back to a trio, A1 continue into the autumntime of their lives with no regrets.
Triple-8 (aka 888)
http://www.youtube.com/watch?v=Nm07glpK8sw
Brilliantly, the gimmick applied to this mob – regulation five members, some of whom look like off-duty mechanics, therefore all boxes ticked – was that they were a genuine alternative to the (*spits*) manufactured likes of Westlife, Boyzone and A1. The reason we knew this to be true was that they had rapping on their songs, and rapping, in the early naughties, was the sort of thing you could only do if you were for real, and not fake. Sadly, this attempt at creating a good boys vs bad boys turf war in the charts didn't really come to much, and their album – which was due to be called "Heavy W8" – was never released.
Northern Line
In the future, whenever people look back in horror at the reality TV boom, and the devastating effect it may or may not have had on popular music, this will be used as evidence for the defense. Northern Line were a pre-X Factor pop band, whose creation and development were kept out of the public eye. As a result, some key decisions were taken which, in retrospect, may have harmed their chances. These include: naming the band after a particularly grubby stretch of the London Underground, then releasing a song called "Love On The Northern Line," a frankly unhygienic act that could put you off public transport for life.
V
Well you wouldn't call anything a single letter these days, not if you want anyone to be able to find them on the internet ever. Nonetheless, the name V came to founder member Antony Brant  when he twigged that it was the Roman numeral for five. There were five boys in the band (and yes, one or two of them looked a bit nasty), so it was perfect! Not that this was a guarantee of enormous success. Despite two Top 10 singles in the U.K. in early 2004, V's album stalled outside of the charts, and they called it a day. Which means some of them probably do work on the dodgems now.
Note: is there any madder lyric in the whole of teen pop than "someone spiked my latte and I'm just not in the mood"?
No, there is not.
Blazin' Squad
Or Blazin' Sqaud, as some unkind pop writers took to calling them. This band took the five boys rule and squared it, tipping the scales at a whopping 25 members, or thereabouts. This is less the result of a grand plan for blanket world domination than a fairly organic coming together at school in Chingford, East London. The band then rocketed to the top of the UK charts with a sanitized version of "Crossroads" by Bone Thugs-n-Harmony, and then started shedding members like dandruff as the subsequent hits proved harder to find. If I remember correctly (it's been a while) there was: Strider, Flava, Kenzie, Krazy, Melo-D, ALF, Reepa, Spike-E, Freek, Tommy-B, Rocky B, Rocky C, Rocky V, Knuckles, Snake-Eyes, Brains, Ringo, Woolhat, Sicknote, Muttley, Bashful, Donatello, Emerson, Mick and Tich.   
And no, I don't know if any of them work on the fairgrounds now.
Read More
Filed Under: