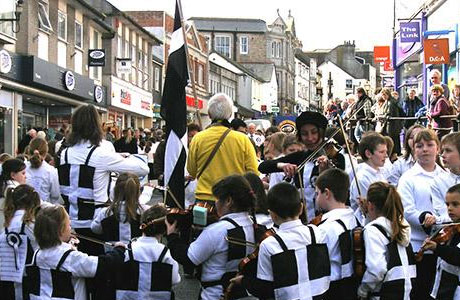 Greetings, my 'ansum Anglophenians!
I bring you tidings of great merriment and celebration from Cornwall, the bit right down at the left toe end of Great Britain, just past Devon. Today is St. Piran's Day, and he is the patron saint of Cornwall, in exactly the same way that St. Patrick is the patron saint of things that are green and shamrocky.
Today there will be parades, there will be songs, there will be cheers. And of course, Cornish expats will want to mark the occasion too, so, for their sake alone, clearly we're going to need to prepare a Cornish feast, to celebrate.
Don't worry if you don't have easy access to this stuff, there are recipes below.
Here's what you will need:
• A flag. Possibly many flags. St. Piran's flag is a black rectangle with a white cross running horizontally and vertically from the center of each side. As with any of these sort of patriotic displays, more flags means more commitment.
• A pasty. Ideally a steak pasty, although there are vegetarian options. BBC Food have a pretty good pasty recipe, if you can't get one locally. Do not add carrots, even if you really, really like carrots. Adding carrots is not Cornish, it is Devonian, and it will infuriate Cornish people to know you have besmirched their culture and heritage in such a way. I mean it. No. Carrots.
• Scones, clotted cream and strawberry jam. For the making of a cream tea. All you need to do is slice the scones in half, and apply the cream and jam, however you must apply the cream first and the jam after. If you do it the other way around, it is a Devon cream tea (see above).
• Real ale. You may need some help with this, as real ale drinkers tend to be incredibly fussy. Something with a name that sounds like a farmer who died 100 years ago, that looks like a cloudy rust-flavored cola, with a head on it. That'll probably do.
• Possibly cider. Although the Cornish have something of a reputation as cider drinkers, alongside everyone who lives in the south-western end of England, it seems the climate doesn't suit apple growing that well. Maybe have it as an option…
• Yarg. Crumbly cheese with dark green skin.
• Saffron cake, which is more of a bun, or a loaf, contains raisins, and is yellow.
• Figgie 'Obbins – a suet-based raisin biscuit sort of a thing.
• And if things start to drag, you can't go wrong with a whortleberry pie. If only because everyone in the room will, as one, turn and ask what on Earth whortleberries are.
And to be honest, I'm not too sure myself.
Gool Peran Lowen!
Read More
Filed Under: