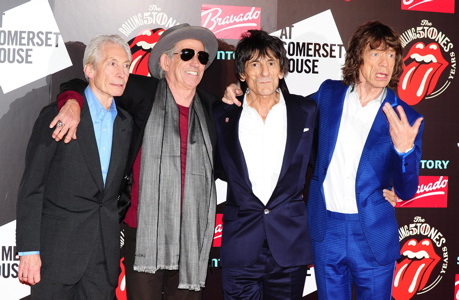 Rolling Stones frontman Mick Jagger hinted back in January that he may be heading to Glastonbury music festival but wouldn't commit to it 100 percent as he didn't want to disappoint. Well, no disappointment here. It's been confirmed that The Rolling Stones will be headlining the festival along with Mumford and Sons and the Arctic Monkeys.
Can't wait to play Glastonbury. I have my wellies and my yurt!

— Mick Jagger (@MickJagger) March 27, 2013
By the way, "wellies", as you probably know, translates into rain boots. A yurt is a tent but we're guessing Jagger's tent will be rocked out with electricity and all that modern stuff. Or … a hotel down the street. It would be pretty impressive if they stayed on-site and camped out with everyone for the weekend.
Mumford and Sons took to their Twitter account as well!
Happy to announce that Mumford & Sons are headlining Glastonbury on Sunday the 30th June! #glastonbury

— Mumford & Sons (@MumfordAndSons) March 27, 2013
Fancy that, so has the Arctic Monkeys. Nice, one.
Arctic Monkeys will headline Glastonbury Festival 2013 on Friday 28th June.

— Arctic Monkeys (@ArcticMonkeys) March 27, 2013
The festival was canceled last year to make room for the 2012 Olympics held in London. Well, now it's back and making up for lost time!
If you want to get a feel for the campgrounds, here's an aerial photograph of the festival in earlier years.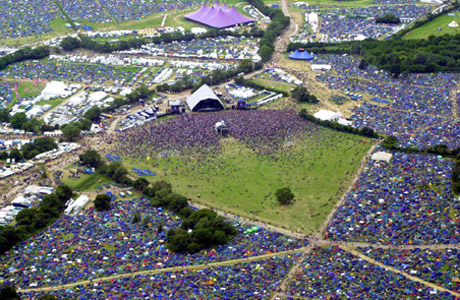 The festival takes place at Worthy Farm located between the towns Pilton and Somerset (England) starting Wednesday, June 26 and ending Sunday, June 30. Tickets have sold out but it has been newly reported that there will be a resale for any cancelled tickets on April 21, 2013. You can register here.
The full line-up is massive, 200 and counting, and way too long to list here. If you're interested, you can see the entire list by going, here. If you can't be bothered to go to scroll through the entire list, here are some acts that stand out to us: Elvis Costello, Ben Howard, Kenny Rogers, The Smashing Pumpkins and Sinéad O'Connor. You can only imagine what it must be like in person to try and see as many acts as you can in a matter of five days.
We said it before, we want to go!
Do you?
Read More
Filed Under: