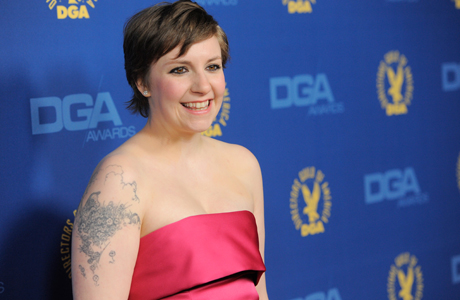 Might there be a bit of Edina Monsoon or Nessa Jenkins in Lena Dunham's controversial, post-feminist creations on Girls? The Golden Globe-winning star and creator of the acclaimed HBO series cited British TV as an influence when she picked up her trophy for Best International Program at the Royal Television Society awards, The Independent reports.
"I grew up watching British television," she said. "Some of the shows that shaped me are Prime Suspect, AbFab and, more recently, Gavin & Stacey. And if there's a BBC mini-series, you cannot keep me away from it."
"The idea that our show would have any impact on British television watchers the way that television from your fine country has affected me is just thrilling. We love the U.K.; we are inspired by your sense of humor and your love of tea and we will continue to try and please you in upcoming seasons."
Girls airs in Britain on Sky Atlantic, which acquires much of its programming from HBO. The show has received strong reviews across the pond, with The Guardian's Lucy Mangan just today writing, "Girls is astonishing in about a million different ways…for its sheer audacity in dramatizing a ceaselessly self-dramatizing generation and never letting sentimentality or partisanship blunt its edge, and for still being as funny as hell."
Are you a fan of Girls? Does it remind you of any of your British telly favorites?
Read More
Filed Under: