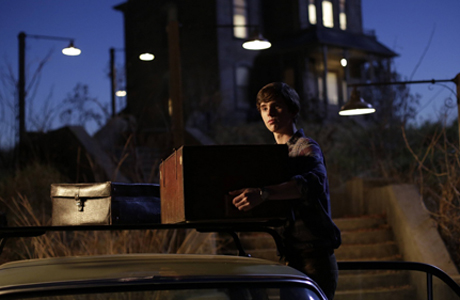 Bates Motel, starring Freddie Highmore (The Art of Getting By; Charlie and the Chocolate Factory), brought in an average of 3 million viewers in last night's premiere on A&E, reports The Hollywood Reporter. The original drama set a network premiere record among adults 25-54 and adults 18-49.
The story is about a "sweet boy" and his mother, which is the prequel to the Alfred Hitchcock's Psycho. We know how that relationship ends but we don't really know how it quite got there. That's where the TV series comes in.
Highmore plays the young Norman Bates opposite Vera Farmiga (Up in the Air) as his mother Norma Louise Bates.
ScreenRant.com makes a great point in saying, "a certain amount of skepticism and immediate critical blowback is to be expected," when the term reboot, re-imagining or prequel is used in conjunction with an established piece of cinema.
While there may have been some prejudgment for this new 10-part series, the initial ratings are optimistic.
If you missed the premiere, here is the trailer to speed you up a bit.
Bates Motel Trailer

Are you going to tune in next week? 
Read More
Filed Under: