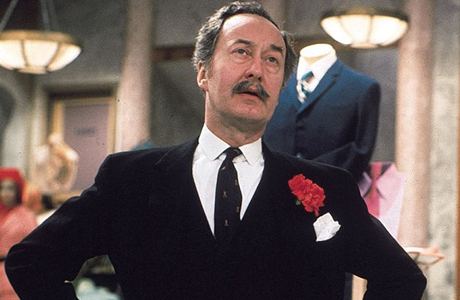 Fans of Are You Being Served?, the long-running, popular Britcom, will be saddened to note the passing of Frank Thornton, the long-faced character actor who so memorably played supercilious floorwalker Capt. Stephen Peacock on the TV series.
Thornton, 92, died in his sleep at his home in London on Saturday, March 16, according to a statement released earlier today by his longtime agent, David Daley.
Are You Being Served? ran for 10 seasons in the U.K. on BBC from 1972 to '85. A workplace comedy about the staff of the fictional Grace's Department Store, it continued to air for years in the U.S. on PBS and BBC America. In the show, Thornton's stuffy Capt. Peacock could always be counted on to find fault with the conduct of his colleagues and to feel the need to upbraid them.
http://www.youtube.com/watch?v=zozFEWFUO0A
"He was a great friend and consummate performer who was the glue who really held Are You Being Served? together," Jeremy Lloyd, the show's co-creator, told BBC after Thornton's passing.
With Thornton's death, the only remaining major cast member from Served? who's still alive is Nicholas Smith, 79, who played bald Mr. Cuthbert Rumbold.
http://www.youtube.com/watch?v=M78u5ZxN38g
Following his lengthy tenure on Served?, Thornton reprised his Capt. Peacock role in Grace and Favour (1992-93), a spin-off series that was also known as Are You Being Served? Again!, and starred as Herbert "Truly" Truelove on Last of the Summer Wine (1997-2010), a popular BBC show about a trio of elderly men.
During a career that stretched over seven decades, he also worked regularly in plays (including appearing as Eeyore, the dolorous donkey, in a London stage adaptation of Winnie the Pooh in the early 1970s) and musicals on regional and West End stages. He also appeared in supporting roles more than 60 films, including A Funny Thing Happened on the Way to the Forum (1966) and Gosford Park (2001).
His survivors include his wife Beryl, whom he wed in 1945, a daughter and three grandchildren.  To read a more extensive obituary on Thornton in The Guardian, click here or watch the BBC report below.
http://www.youtube.com/watch?v=z85I_zdtxkc
What is your favorite performance by Frank Thornton?
Read More
Filed Under: