If there is one overarching lesson the world would do well to learn from the internet, it's that a truly great parody is incredibly hard to pull off. Whereas, a mediocre one seems to be fairly straightforward.
Here are five images that fall into the former camp. Super familiar Beatles imagery, given an unexpectedly delightful twist.
Let's start with the most parodied picture of them all:
This is the cover of "Sgt. Pepper's Lonely Hearts Club Band," a 1977 tribute to the Beatles album by the Japanese jazz-fusion keyboard player Jun Fukamachi.
Not that these are all actual albums of music. Here's a T-shirt design:
Hats off to Olly Moss for creating this spoof "Revolver" design, entitled, naturally, Evolver. And hats off again for making the chimps resemble their Beatley descendents so well.
Now for something unsettling:
A startlingly powerful cover from this Slovenian band, who recorded all of the songs from the Beatles' least loved album (which is still far more loved than the best music most artists manage) as if they were teutonic industrialists with a Hitler Youth fetish. Which they kind of are, but also very much not.
And, because we are who we are and we like what we like, let's bring Doctor Who into all this, with another T-shirt (courtesy of RedBubble):
Wouldn't we all like to live in a yellow time machine (yellow time machine, yellow time machine)?
And finally, the second most-parodied picture in Beatledom: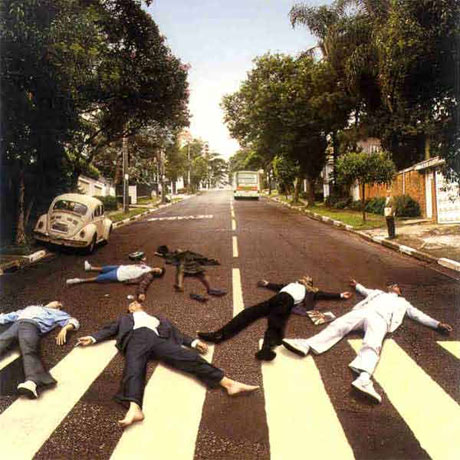 This is a live album by the Brazilian group Lingua de Trapo, called "Vinte e Um Anos Na Estrada", which translates to "Twenty-One Years On The Road."
On the ROAD, geddit?
Read More
Filed Under: