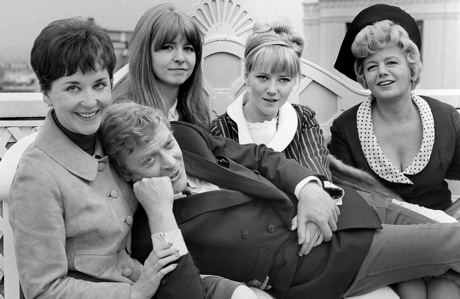 Happy birthday, Sir Michael Caine! The London-born actor turns 80 on Thursday, and here at Anglophenia, we're celebrating all week.
Today, we're going to salute the two-time Oscar winner for just five of his movies. We've combed through the list of his 120-plus films and – this was hugely difficult – picked out five that define different periods or phases of Caine's career.
These aren't necessarily the very best or very worst of his performances and films (though some are, indeed, at either end of the extremes) but rather the most definitive. They're echt-Caine, in all his talent and diversity over nearly 50 years of shining on screen in leading roles.
In looking over his long career, it's clear that Caine has always done more by doing less. He may change his accent, but he's not known for donning different noses or wigs, losing or gaining weight, or adopting a limp or funny walk. He even blinks less than other actors, which he famously expounded upon in his 1997 advice book, Acting in Film: An Actor's Take on Movie Making.
"… I don't blink," he wrote. "Blinking makes your character seem weak. Try it yourself: say the same line twice, first blinking and then not blinking. I practiced not blinking to excess when I first made this discovery, went around not blinking all the time and probably disconcerted a lot of people. But by not blinking you well appear strong on screen. Remember: on film that eye can be eight feet across."
With that in mind, here's an unblinking look at five definitive Caine performances:
Caine as Irrepressible Scamp: Alfie (1966)
The Aussies have a word for it: larrikin. That's the term for a young man who often behaves badly but is an appealing fellow nonetheless. And that's exactly who, as the title character, Caine played in this period piece about an inveterate horndog in a comic drama that captured '60s London at its most swinging.
Caine as Regular Bloke Turned Action Man: The Man Who Would Be King (1975)
Caine got to use his native Cockney accent in this stirring adventure film directed by John Huston and based on a short story by Rudyard Kipling. He and Sean Connery – their easy on-screen chemistry as buddies is one of the film's highlights – play British soldiers in 19th century India who decide to set themselves up as divine rulers in a nearby region.
Caine as the Best Thing in a Bad Movie: The Hand (1981)
Talk about improbable plots. In this horror film, Caine plays a comic book illustrator who loses his hand in a car accident. The hacked off hand, though, takes on a life of its own, following Caine's character about and killing those who anger the artist. Written and directed by Oliver Stone (before he made Platoon and Wall Street), the movie was better than it ever deserved to be, mostly because of Caine.
Caine Shows He Can Stretch: Miss Congeniality (2000)
Upon reviving his career with his Golden Globe-nominated performance in Little Voice (1998) after a slack period in the 1990s, Caine came roaring back to prominence as a supporting actor. Showing he could play any role, he turned up as a gay makeover specialist tasked with transforming Sandra Bullock's mousy, ill-humored FBI agent into a sparkling beauty pageant contestant in this blockbuster comedy. How much fun was it hearing him tell Bullock's character, as he taught her how to properly perambulate to put wiggle in her walk, "See? Glide. It's all in the buttocks. Don't I look pretty?"
Caine as Mr. Reliable: The Batman Trilogy
Beginning with Batman Begins (2005), through The Dark Knight (2008) and concluding with The Dark Knight Rises (2012), as loyal butler Alfred, Caine brought unmatched humanity and pathos to fellow Englishman Christopher Nolan's massively successful Batman series. When, in the final movie, Sir Michael teared up at the sight of Bruce Wayne finally happy and paired off, his joy was so palpable and yet so restrained that viewers couldn't help being moved to shed a sympathetic tear or two themselves.
http://www.youtube.com/watch?v=HX2oc8KGftQ
———————————
What's your favorite of Michael Caine's many performances?
———————————
See also: 10 songs that encapsulate Sir Michael Caine's life.
Read More
Filed Under: