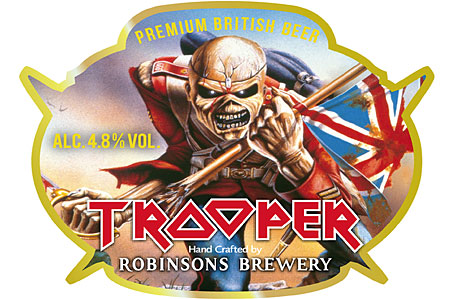 And by "have their own beer" I don't mean they're tight-fisted when it comes to getting a round in (although you know what they say about lead singers). These five musical performers are so fussy about their drinking, they've elected to make a special brew – note: not Special Brew – so's to be sure of a decent pint wherever they go.
Iron Maiden
The most recent to join the mob of rocking brewers, the Maiden revealed details of their signature beer – a 4.8% ABV beast of a pint entitled Trooper – this week, amid promises that this is not just some promotional gimmick. They're seriously entering the ale business with a view to long-term brand synergy. It's not unlike when Beyoncé or Britney Spears release a perfume, but more metal.
Here's an instructional video on how it was created:
Elbow
You'll notice Bruce Dickinson was at Robinsons Brewery in Stockport, Manchester, and that's where Elbow went a couple of years back to make their first beer, a comparative 4.0% ABV weakling called Build A Rocket, Boys! It's described on their beer's website as being "a golden ale with a rich rounded body, smooth bitterness, subtle tang of malt and fruity aroma."
A description that could have been coined for Guy Garvey himself.
Professor Green
Away from Manchester, and over in Stoke-on-Trent, Signature Brew are a company devoted to creating bespoke beers for touring musicians, so that there's always a decent pint to be had, whatever venue they happen to roll up at. They create relatively small amounts of each brew, tailored to the tastebuds of the star in question. Like UK rapper Professor Green's own Remedy beer, the recipe for which appears to have been arrived at after some seriously hard drinking.
His video is a little more pompous than Bruce's, not to mention sweary:
Enter Shikari
A much more macho tasting session for this young bunch of rave-rockers, albeit one that references lip-balm and slippers. Their Sssnakepit is another Signature Brew, which does at least prove one thing: it is not hard to convince musicians to spend their off-duty afternoons tasting beer.
Fairport Convention
And the daddies of this whole thing must surely be Fairport, who not only have their own ale – Fairport Five, a golden/blonde ale courtesy of Wadworth brewery – they have their own festival, Cropredy, at which it is served, and a fanbase that are the absolute stereotype of the real ale afficionado. It's total synergy between band, brand, and audience, none of whom would be remotely impressed that I just used the word "synergy" there.
AND it's 5.0% ABV, which basically knocks Iron Maiden's pint all over the bar and walks off as if nothing happened.
Note: RIP to Maiden's original drummer Clive Burr, who passed away earlier this week.
Read More
Filed Under: