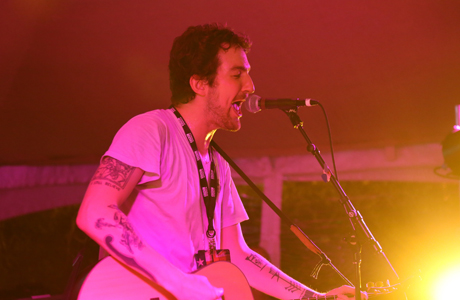 British folk-punk artist Frank Turner has amassed a loyal following through hard touring and brash live shows. He hit the big time in 2012 with two massive achievements, performing at the Olympics opening ceremony and selling out the massive Wembley Arena in the U.K. Banging his acoustic guitar like a bongo, the singer-songwriter ensured that the roof was sufficiently raised when he performed at BBC AMERICA's Roadhouse at South By Southwest on March 8.
If you weren't lucky enough to be in Austin For SXSW, we can now bring you two EXCLUSIVE music videos of his performances, including a vividly raw take on "Recovery," the first single from his soon-to-be-released fifth album Tape Deck Heart.
"Recovery"
"If I Ever Stray"
And have a look at our interview with Frank after his performance. He shows us his Texas tattoo and tells us why he was hassled by Natalie Portman fans online.
Read More
Filed Under: