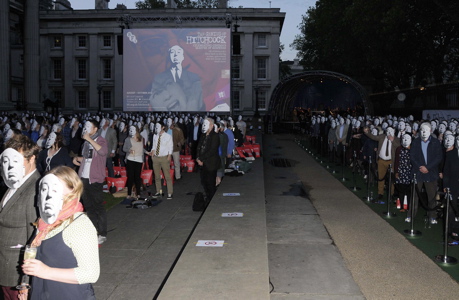 Alfred Hitchcock fans here in the U.S. have a treat ahead of them this summer: the British Film Institute will be exhibiting newly-restored versions of Hitchcock's nine earliest extant films in movie theaters across the country, beginning in June.
The films were made between 1925 and 1929 and represent the period in which Hitchcock developed aspects of the style we've all come to associate with the Master of Suspense.
Variety says the effort is "the largest restoration project ever undertaken by the BFI."
The films are The Pleasure Garden (1925), The Lodger (1927), The Ring (1927), The Farmer's Wife (1928), Easy Virtue (1928), Champagne (1928), The Manxman (1929) and Blackmail (1929). All are silent, although as enthusiasm for talkies swept the industry in 1929, Hitchcock made a sound version of Blackmail, as well. The story of a woman who kills an attacker as she fends off an assault, the movie has many elements familiar in later Hitchcock, including a dramatic chase through the British Museum.
Hitchcock himself said that he considered The Lodger, which tells the story of a serial killer, "the first true Hitchcock picture." It also features Hitch's first cameo appearance, which, in subsequent films, became his personal signature.
The Ring is actually in large part a boxing picture — and quite a good one, too.
The restored films will be screened at the San Francisco Silent Film Festival June 14 to 16, Los Angeles' Goldwyn Theater on June 18, and New York's Brooklyn Academy of Music beginning June 29. They'll also be shown in Washington D.C., Chicago, Seattle, Houston, Boston and other cities, as well.
Here's a short video the BFI put together several years ago to help raise funds to "rescue the Hitchcock 9":
Although these are new restorations, these nine movies have been available in prints of varying quality for decades, ranging from shoddy public domain copies to archival or restoration versions available on foreign DVDs.
Not all Hitchcock films have been so lucky. Sadly, The Mountain Eagle, directed by Hitch in 1926, has been lost. It's considered a Holy Grail among those who search for films that have disappeared, and it's at the top of the list of most sought-after movies by the BFI. A comment on the Internet Movie Data Base asks people: "Please check your attics."
It's not an unrealistic request — that's often how lost movies are found. In 2011, the first three reels of The White Shadow, a film on which Hitchcock served as assistant director in 1924, surfaced in the vaults of the New Zealand Film Archive. The footage, roughly 40 minutes' worth, was restored and was even available online for several months last year at the website of the National Film Preservation Foundation's website here in the U.S.
If you want to know more about the nine films going on tour, you might want to watch this this Q & A video from the BFI:
Read More
Filed Under: