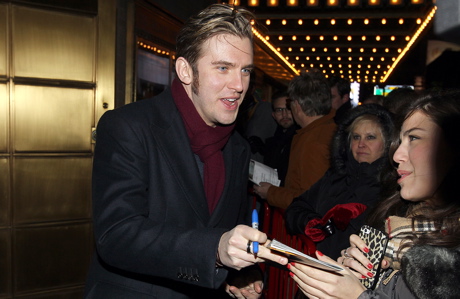 If you want to catch a glimpse of Dan Stevens, the blue-eyed dreamboat who played Matthew Crawley on Downton Abbey for three years, just hop aboard a New York City subway train.
Proving there's life after Downton Abbey, the British actor has been out and about in the Big Apple in recent months, often via the city's extensive underground train system.
"Why shouldn't I take the subway? It's great," he told a reporter for the Wall Street Journal's Speakeasy blog while at a party last week for British Airways' The Big British Invite, a promotional effort by the airline and VisitBritain to encourage Americans to visit the U.K.
Specifically – take note, Stevens fans – he said he regularly rides the 2, 3, A, C and F lines. He didn't say whether he ever manages to find a seat on the often-crowded trains.
Stevens, 30, moved from England last fall to Manhattan to appear on Broadway alongside Jessica Chastain in The Heiress, which finished its limited run last month. He is now busy shooting A Walk Among the Tombstones, a movie starring Liam Neeson, in Brooklyn.
Sporting his new look of brown hair and a scruffy mustache and soul patch, Stevens enthused over the fact that subway trains run all night in New York.
"Are you listening, London?" he asked pointedly. "Whatever New Yorkers say, you have an amazing subway system." (The London Underground currently ceases operations shortly after 1 a.m., resuming tube service at 5 a.m.)
As for New York itself, Stevens said he is enjoying his time in Gotham: "It's energizing and also exhausting. But it's always had an electricity that I find very attractive."
———————————-
If you ran into Dan Stevens on a subway train, what would you say to him?
———————————-
Read More
Filed Under: