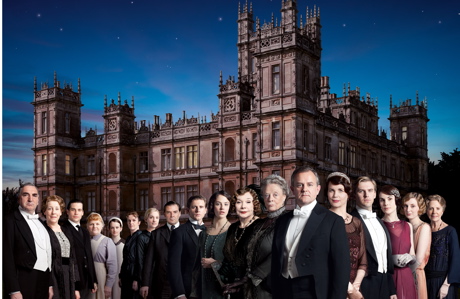 The revolving door at Downton Abbey is spinning frantically as characters enter and depart the popular British series.
New actors are joining, a former cast member is returning and a mainstay is departing the popular British series. (None of 'em, sorry to say, is Dan Stevens; his engaging character, Matthew Crawley, is dead and will stay that way.)
Read no further if you don't want even a hint of what's ahead in season four of the period drama.
Still with us? Here goes, then.
The returning cast member is Shirley MacLaine, who appeared in two episodes during season three as Martha Levinson, the brassy mother of American-born Lady Cora Crawley (Elizabeth McGovern). The show's producers have announced that the 78-year-old Academy Award winner will reprise her role in Downton's season ending special airing next Christmas in the U.K. and in early 2014 in the U.S.
Fans will no longer be able to hiss Sarah O'Brien, the sourpuss lady's maid whose constant scheming caused trouble both below and upstairs. Actress Siobhan Finneran, who played the role since the beginning of the series, confirmed that she would not be returning for season four. There's no word yet on how O'Brien's absence will be explained though there were strong hints in the season three finale that the character was eyeing a possible new job.
As for the actors newly joining the show, other than the wee fellow(s) playing Lady Mary Crawley's infant son, none are members of the Crawley family. Rather, their characters include two possible new beaux for Lady Mary (played by Michelle Dockery) and visitors to Downton Abbey, the manor house where the Crawley clan resides.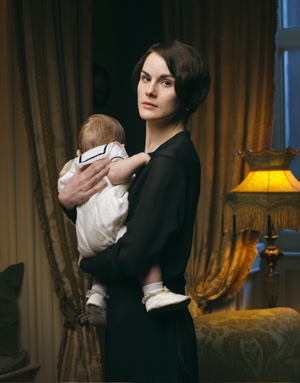 New cast members include:
• Tom Cullen will play Lord Gillingham, an old family friend and possible suitor for Lady Mary. The 27-year-old, Welsh-born actor is best known for playing Wulfric in World Without End, the 2012 mini-series based on a novel by Ken Follett, which aired on Channel 4 in the UK and the Reelz Channel in the U.S.
"I'm in the new season four of Downton Abbey," he tweeted. "So excited. My heart is beating a little too fast…"
• Julian Ovenden has been cast as Charles Blake, another aristo who may set his romantic sights on the young widow. No stranger to period drama, the 37-year old English actor played Val Dartie in the 2002-03 remake of The Forsyte Saga miniseries and Foyle's War. He is also known for his lovely tenor voice, as showcased in this performance at one of last year's BBC Proms concerts:
• Dame Harriet Walter, 62, a well-known British stage actress and star of BBC America's Law & Order: UK, will play Lady Shakleton, a longtime BFF of the Dowager Countess (Maggie Smith).
• Dame Kiri Te Kanawa, 68, the famous opera diva who hails from New Zealand, will pop up briefly as a houseguest at Downton Abbey. Here's hoping that she sings for her supper.
In other Downton Abbey news, real estate division:
• Looking for an opportunity to race around those endless lush green lawns that make up the grounds of Downton Abbey? Mark April 28 in your calendar. That's the date of the Parkinson's UK Run Highclere, a 10-kilometer charity race to raise money to fight Parkinson's disease. The run's route is along roads at Highclere Castle, the Newbury, Berkshire estate that stands in as Downton Abbey on the TV show.
"I would encourage everyone to come along on the day for a chance to step back in time and see it for yourself," says actor Jim Carter, who plays Mr. Carson on Downton, on the charity's web site.
• Torquhil Campbell, the 13th Duke of Argyll, is hoping for the so-called Downton Effect when his ancestral Scottish manse, Inveraray Castle, throws its doors open again March 29 to tourists for the season. His castle was the one seen in the final episode of Downton Abbey earlier this year; it was redubbed Duneagle Castle and was home to Cousin Rose (Lily Allen) and other relatives of the Crawleys. "We did it to boost tourism and show off Argyll and Inveraray in the best possible light," the Duke told Scotland's Daily Record of allowing Downton to film in his home.
• And, finally, on The New Yorker's web site, satirical writer John Kenney posted a purported script for the first episode of Downton Abbey's fourth season. The spoof begins with a scene in which Daisy accidentally fatally stabs Mrs. Patmore and she then slips on a roast and dies herself. The piece proceeds to wreak massive carnage on all of the show's characters, with only one – guess who? –remaining standing at the end. To read the piece, click here.
Read More
Filed Under: