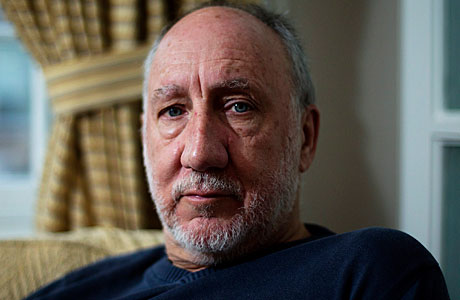 Here's an important safety tip for all rock fans. Should you wish to approach some of the more curmudgeonly members of the old British rockers brigade – a Van Morrison or a Ringo Starr –  with what may seem like a perfectly innocent or supportive suggestion or request, take heed of the warning at the heart of this story, and keep well away.
Ringo won't sign your autographs anyway, this we know. Van will come to your town, play a short set of songs you don't know, refuse to talk to the audience and then leave in a dark huff. These are not people people, despite what they do for a living.
Another reluctant addition to this cavalcade of grumpy gramps is Pete Townshend of the Who, a man who, in the heat of performance, has been know to tell his audience off, or to eff off, if he's really riled.
Here he is in Canada last month, spotting a sign in the crown that says "Smash Your Guitar, Pete!" held by Who fan Eric Costello and his 7-year-old daughter (also a Who fan).  
http://www.youtube.com/watch?feature=player_embedded&v=oXVl39wBx-c
Charm personified, I trust you'll agree.
But the thing with Pete is, for all that he's a curmudge, he's also a great apologiser. Eric responded in the Toronto Sun: "Nobody talks to my seven-year-old daughter like that. I expect a 70-something-year-old man to respect the fact there's a seven-year-old girl standing in front of him… I'd like him to know in some small way he broke a little girl's heart."
He also explained that this sign was something his daughter wanted to hold up, and he hadn't used her to get closer to the stage.
Pete wrote a letter to Eric, care of  Toronto DJ Mike Tyler (and quoted in the Guardian), saying:
"Apologies and condolences from my side, and very best wishes to you and your family.
I asked my friend Mike Tyler to find you so I could tell you that I am so sorry the story about us blew up the way it did, but also to tell you that I sympathize with you both, and your daughter's mother, and that I am most certainly not angry. I was not angry on stage either. I was in rock star mode, the big mouth.
I could have handled it differently. I thought of sending someone to find you both and telling you I was not upset, but we were flying to New York straight after the show, and had no time to spare. I wish things had been different. It would have saved you from all this furor.
I thought your placard was fun. I had a job to do (to announce our musicians) and I didn't want to lengthen the show by trying to deal with you directly and in detail. I was also worried that your daughter looked a little frightened as the crowd started to follow you down the aisle. The ushers should not have let you leave your seats and walk forward. All that said, you did nothing wrong.
[I hope we can] meet and be friends and put this behind us."
So, maybe there's a bright side to annoying a rock star after all. Apart from Van Morrison. Trust me, there is no bright side to his particular road.
Read More
Filed Under: