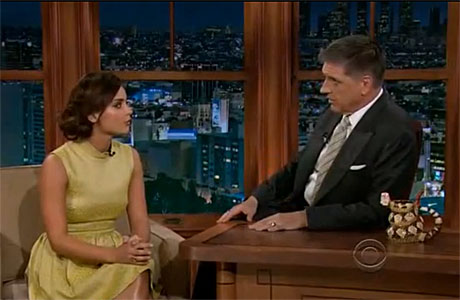 Last night, Jenna-Louise Coleman appeared on The Late Late Show with Craig Ferguson. We already know that he's a major, major Whovian, but is it just us, or did she manage to somehow make him come unravelled?
Within seconds of the show finishing, Craig, who had clearly had time to calm down and reflect, tweeted:
Gah! In my excitement when talking to Jenna-Louise Coleman I mistakenly thought the town of Filey was near Blackpool. It is, of course,not.

— Craig Ferguson (@CraigyFerg) March 19, 2013
*awkward silence*
Anyway… this week, we're taking this roundup on a little excursion: gather your popcorn, put your 3D specs in your top pocket, we're off to the movies, and we're taking some interstellar company.
Look, here's your date for the evening:
And here's HIS date for the evening (and evenings from long ago, and way off into the future too, come to that. All will become clear… eventually.):
Let's begin the way every good trip to the movies should begin, with a look at the posters outside (with some accompanying commentary about each one, from experts). Click here to avoid any potential spoilers:
SPOILERNOPSIS:
The Doctor's search for Clara Oswald brings him to modern day London, where Wi-Fi is everywhere. Humanity lives in a Wi-Fi soup. But something dangerous is lurking in the signals, picking off minds and imprisoning them. As Clara becomes the target of this insidious menace, the Doctor races to save her and the world from an ancient enemy.
• Go to Radio Times for their spoiler-free review, or maybe wait until after March 30 and go then, to be safe…
SPOILERNOPSIS:
Clara wants to see something awesome, so the Doctor whisks her off to the inhabited rings of the planet Akhaten, where the Festival of Offerings is in full swing. Clara meets the young Queen of Years as the pilgrims and natives ready for the ceremony. But something is stirring in the pyramid, and a sacrifice will be demanded.
SPOILERNOPSIS:
The Doctor and Clara land on a damaged Russian Submarine in 1983 as it spirals out of control into the ocean depths. An alien creature is loose on board, having escaped from a block of Arctic ice. With tempers flaring and a cargo of nuclear weapons on board, it's not just the crew but the whole of humanity at stake!
SPOILERNOPSIS:
Clara and the Doctor arrive at Caliburn House, a haunted mansion sat alone on a desolate moor. Within its walls, a ghost hunting Professor and a gifted psychic are searching for the Witch of the Well. Her apparition appears throughout the history of the building, but is she really a ghost? And what is chasing her?
Note: you can get more details on these episodes on the BBC AMERICA site.
Time to get settled down, the lights are dimming, and oh look! Here's a trailer:
As for the big feature presentation well, it's coming very soon.
• The thing you need to know at the moment is that the Doctor Who 50th anniversary special is not only going to be 3D, it's going to expand in all manner of new dimensions.
Speaking at a press launch (reported by the Independent), Matt Smith claims the script is "hilarious, I think it's epic and I think it's fast and I'm telling you nothing more but you will not be disappointed.
"I think it's going to be the biggest, best, most inventive and most exciting year for the show and I think this script delivers on all those points that you want it to for where the show is at this time, it's brilliant."
In the meantime, and continuing with the theme, Steven Moffat has been explaining the logic behind these movie-style poster images, saying that they very much reflect the modular way in which the series has been put together, as if they're a collection of actual feature films.
He and Matt Smith were being interviewed by Entertainmentwise,  and apart from once again referring to this mysterious hidden skeleton in the Doctor's wardrobe ("The Doctor's greatest secret will be revealed. It actually will. I'm not lying.") he was at pains to emphasize how each episode will reflect not only the style of the writers involved, but the directors too:
"We find directors with ambition not to just get the show made but to show off a bit and that's what we're looking for. Directors who actually actively want to impress you. They're just not there to get the show done in the time which is actually quite difficult in itself.
"We make no demands on Doctor Who, we say: 'This one's your one, make it your one'. We say that to the writers as well, 'Treat it like you own it' and that's really important."
And then, too soon, the credits roll, the house lights rise and as you brush the spilled popcorn from your coat, we find out what else has been going on in space and time this week:
• Here's how Matt Smith spent his Friday night. Being poked, prodded and sniffed by TV presenter Claudia Winkleman on the BBC's Comic Relief telethon:
• This is lovely: Time magazine refers to Doctor Who as being "pop culture sci-fi at its best," and who are we to argue?
• iPad users: the Doctor Who encyclopedia app is now cheaper and more extensive than ever! Details here.
• And then THIS, which is just so lovely it's not true. A Doctor Who adventure made using action figures, the red noses Comic Relief sells to raise money, and the imaginations and voices of children. Hats off to joe27157 for being delightful:
• Shades of "The Rebel Flesh" and "The Almost People": do Matt Smith and Jenna-Louise Coleman have real-life gangers? Ahead of Orphan Black, BBC AMERICA's new original series that reveals its main character is one of many clones, the channel asked Matt and Jenna about their own celebrity lookalikes. Watch the video below. You'll never look at Wednesday Addams the same way again:
Orphan Black premieres Saturday, March 30 at 9/8c after the Doctor Who premiere.
TTFN!
Read More
Filed Under: