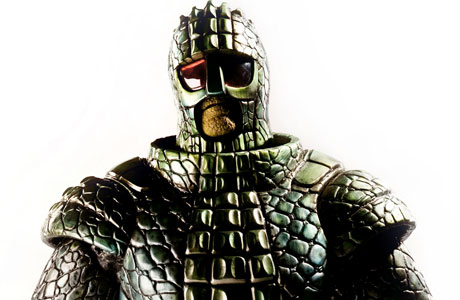 See this grumpy-looking fella here? He's an Ice Warrior, and they are redesigned and officially BACK BACK BACK.
This image made its online debut on SFX last night, and believe you me, it goes all the way down.
Speaking of pictures, last week, the trailer image for the second part of Season Seven was revealed, and for a while there we were all so dazzled by the sight of the Doctor and Clara bursting out of the Shard – London's geometrically interesting skyscraper – and hurtling to their imminent doom, we almost failed to notice the faces appearing in the broken fragments of glass all around them.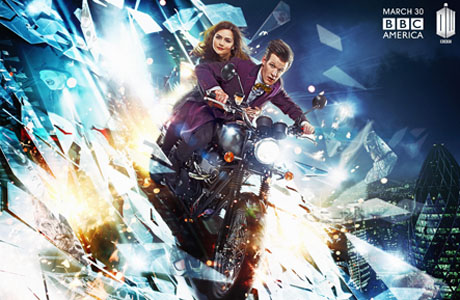 Faces like the redesigned and still officially BACK BACK BACK Ice Warriors:
Or  the Spoonheads (villains of the first Doctor Who story in this new run: The Bells of St John):
There are others too, hidden away among the fragments, including the new-look Cybermen, and two as-yet unnamed monsters. You can see them all at the Radio Times site.
RedEye's Curt Wagner even made a speculative video about it:
http://www.youtube.com/watch?feature=player_embedded&v=ruk-Qcug3jw
UPDATED: now see even more images of the Doctor and Clara from Season 7, Part 2.
Here's what else is going on in space and time this week:
• Speaking of the Ice Warriors, it was announced last week that their first run-in with the Second Doctor – The Ice Warriors – will be part-animated, in order to fill in the gaps caused by two missing episodes, and then released on DVD. Here's an excerpt of the finished product, taken from DoctorWho.tv:
• Doctor Who exec Caro Skinner has been echoing Steven Moffat's comments from last week, concerning the forthcoming new episodes. In an interview for SFX magazine, she not only ramps up the excitement over Journey To The Heart Of The TARDIS – "Our designer Michael Pickwoad should probably be credited as special guest star on quite a few of our episodes this year" –  but also took the time to heap praise on Neil Gaiman's treatment of the Cybermen, in particular their impact on the Doctor himself:
She said: "What Neil's also done in that episode is actually used the notion of being able to write a story about the Doctor in conflict with the Cybermen in a new way, to really make it a huge episode for Matt. It's a brilliant performance, that one. It's interesting what Neil does – he always delivers such wonderful visual sequences, as he did with The Doctor's Wife, but one of his real strengths is that he gets right to the heart of the characters as well.
"In many ways that episode is as much about Matt's Doctor in conflict with one of the most classic and famous Doctor Who monsters as it is about what the Cybermen look like."
• Meanwhile, upping the ante somewhat, Steven Moffat had this to add:
"It's the 50th year of Doctor Who and look what's going on! We're up in the sky and under the sea! We're running round the rings of an alien world and then a haunted house. There's new Cybermen, new Ice Warriors and a never before attempted journey to the centre of the TARDIS. And in the finale, the Doctor's greatest secret will at last be revealed!  If this wasn't already our most exciting year it would be anyway!"
• Just a reminder, Doctor Who premieres Saturday, March 30, 8:00pm ET as part of Supernatural Saturday, on BBCAMERICA.
• The Ark In Space – in which the Fourth Doctor takes Harry and Sarah Jane to a space station in the far future, and discover the last vestiges of humanity in cryogenic sleep and under attack from a space parasite called the Wirrn – comes out on DVD on March 12. Here's a clip:
• Did you see Matt Smith talking up American Whovians in the press recently? Speaking to what the Mirror calls 'a US TV magazine', he said: "the fans have been so supportive. The British are lot more reserved, and the North Americans have a lot more enthusiasm. I love it when people dress up as the Doctor and Amy. I like all that – that is the spirit of the place and there is a freedom to be enthusiastic there, which is hugely enjoyable. That is what's great about working in science fiction shows."
• Doctor Who has been nominated in the Fan Favorite section of the TV Guide awards. But it'll need your votes if it's going to win. Here's the link.
• There's a nice little interview with Arthur Darvill over on the UK Huffington Post, in which he loyally says: "Doctor Who is going to follow me around forever. I think once you're involved with something like that, you're involved for the rest of your life."
• And then, over on Digital Spy, he loyally continues: "I'm very loyal to Doctor Who – I saw Steven Moffat recently and I think he's brilliant. He's one of those people that if he ever asked me to do anything, I'd do it."
• Over on Tumblr, the artistically gifted Amy Mebberson has been exploring what happens if you take the world of Doctor Who and the world of Disney animations and, sort of… smush them together. Something like this:
Let's end with a work of some astonishment. A YouTuber called DoctorOctoroc has worked up this simulation of a Doctor Who roleplaying game for the 16-bit SNES console – music and all – and it's really very good indeed:
In fact, it could only be improved if we could, y'know, actually play it.
TTFN!
Read More
Filed Under: