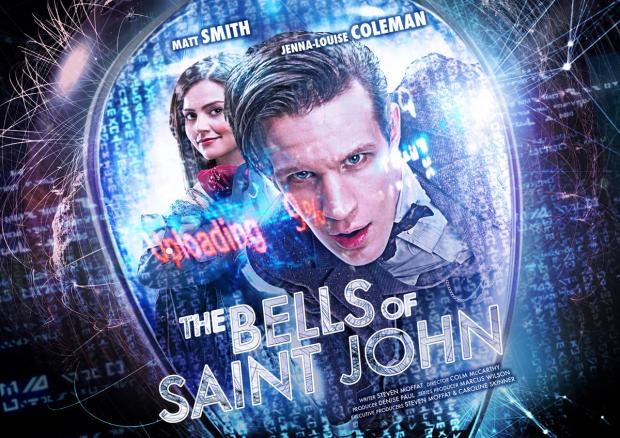 Whovians, you find us this week in a state of high alert. The next part of Season 7 of Doctor Who is about to start in the U.S. this Saturday, March 30, at 8 pm ET, leading into the series premiere of Orphan Black and Matt Smith and Jenna-Louise Coleman's guest appearances on Chris Hardwick's Nerdist on BBC AMERICA's Supernatural Saturday. And this means an enormous spiraling Catherine wheel of exciting things have been happening on an almost hourly basis.
First and best is this delightful prequel to the first Season 7 story to hit the screens: The Bells of Saint John, in which we find the Doctor in a reflective frame of mind:
• And BBCAMERICA's gallery of images from Season 7 Part 2…
And then there are these delightful interview videos, made by BBC AMERICA, in which Matt Smith and Jenna-Louise Coleman quiz each other.
Here's Matt interviewing Jenna-Louise:
And vice versa:
Here's Matt and Jenna-Louise discussing the episode you should send a friend who's new to Doctor Who:
Plus: did Arthur Darvill and Karen Gillan have any advice for Jenna-Louise after she was hired as a new companion?
Then there's the BBC ONE trailer for The Bells of Saint John, which features a lot of Jenna-Louise:
Here's BBC AMERICA's Doctor Who Insider in which Jenna-Louise talks about her initiation into the series:
• And while we're thinking about Clara Oswin Oswald, the Doctor Who Facebook feed has a quiz, to see how well you already know this most mysterious of ladies: play it here.
• Plus, NBC News directs us to an io9 piece on Jenna-Louise Coleman fan art, which is predictably impressive.
• The Los Angeles Times highlights why they think Doctor Who, with its 50 years on the air, is superior to other sci-fi franchises on television: "What sets Doctor Who apart is that, notwithstanding the distance from its paint-and-cardboard, spaceship-on-a-string early episodes to the beautifully realized, seamlessly fantastic creation it is today, the current series is the same one that began on the BBC in 1963 — neither a sequel nor a re-conception, but the identical show."
• Now, the good people at Entertainment Weekly, having just splashed Doctor Who on their cover for the second time in a year, clearly decided to throw their lot in with the Doctor in a most delightful fashion.
• By which I mean they made cutty-out Doctor dolls, people!
• And they have some tips for newbie Whovians, courtesy of Steven Moffat and Matt Smith, on how to get the most from your first few excursions in the TARDIS.
• AND an exclusive clip from The Bells of Saint John. We'd put it here too but, y'know… exclusive…
• AND AND another exclusive clip, this time of Matt and Jenna-Louise talking about Doctor Who fans.
(Note: you have to go and like their Facebook feed to see it.)
• Oh and Peter Jackson — director of The Lord of the Rings and Hobbit trilogy — is a Whovian and has expressed interest in directing an episode of the show. "They don't even have to pay me," Jackson tells EW.com. "But I have got my eye on one of those nice new gold-colored Daleks. They must have a spare one (hint, hint)." Jackson has his own enviable collection of actual Doctor Who props, which you can see below: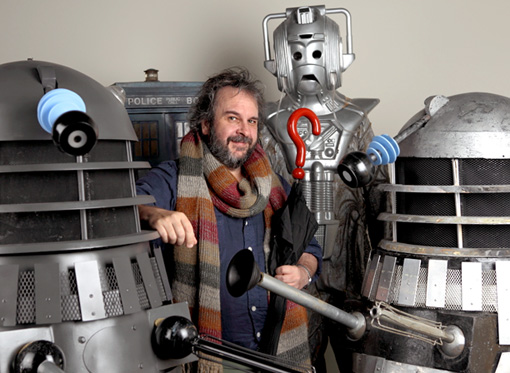 • Not to be outdone, the Times had this interactive video doohickey for smartphone and tablet users:
• And even Playstation has gotten in on the act, offering new Doctor Who-related Playstation Home elements that allow you to dress your avatar like the Doctor, River, a Silurian or a Silent. And there's a TARDIS private space and clubhouse too.
• And the Doctor Who stamps are available from today. Although harder to get hold of outside the UK (sorry!):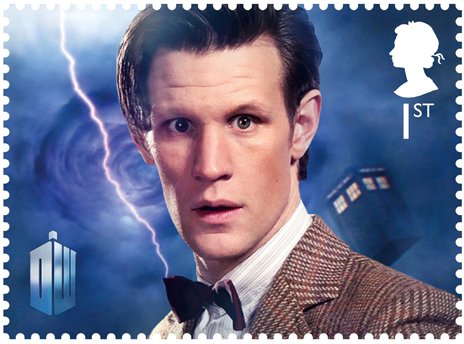 • That's about it, apart from a timely round of applause for both Doctor Who composer Murray Gold and effects unit The Mill, for their nominations in the BAFTA TV Craft Awards. The Mill is up for the visual & graphic effects trophy, while Murray is nominated in the original music category, for his work on Asylum of the Daleks.
• And Doctor Who Magazine's special edition devoted to the missing/deleted episodes, largely from the First and Second Doctor's era.
• And let's not forget Fish Fingers and Custard Day, on April 3:
• Or A Study In Time, in which Sherlock Holmes and John Watson investigate the Tenth Doctor:
• And finally, let's go out with this alternative set of credits for Season 5, as if Doctor Who was Buffy The Vampire Slayer:
TTFN!
Read More
Filed Under: