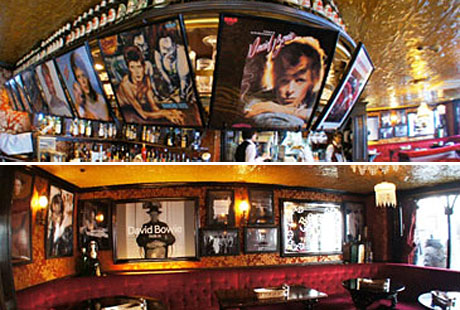 The promotional campaign for David Bowie's comeback album "The Next Day" has taken another slightly odd turn, with the news that his Japanese record label has opened a special David Bowie-themed café, serving special cocktails, and English food.
The café is set within a bar called the Cardinal, a British pub based on the ground floor of the Sony building in Tokyo, and as you can see from the pictures above (taken from their website, translated here), there are Bowie album covers everywhere, especially in their bespoke Bowie Listening Room.
The menu boasts such British delights as shepherd's pie – albeit a reswizzled version with chili beans and cheese – that costs 1,100 yen (that's about $11.50). It's David's favorite, apparently. And Keith Richards's, come to that.
Then there are the cocktails named after Bowie songs: "Cat People," "China Girl" (a curious choice, but OK…) and "The Man Who Fell To Earth." That last one is presumably the most alcoholic of the lot.
Oh, and there's a chance he'll be taking the album on tour after all. His wife, the supermodel Iman, let slip in an interview with Grazia magazine that they've been seriously considering the logistical problems of him being away from home for the first time in 20 years: "We have a 12 year old in school, so we are stuck, we can't travel. Our schedule is around her, so I don't know. We'll have to go visit him, but we won't be on tour with him because she's in school."
There again, given the eccentric nature of the album campaign so far, it'll probably only be a two-date tour calling at Istanbul and Greenland.
Read More
Filed Under: