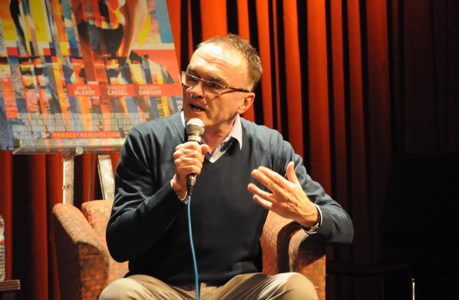 Film director Danny Boyle has some definite ideas about where Britain stands in the modern cultural universe.
"I really think we are brilliant with music, for such a tiny place," he said last week at New York City's 92YTribeca.
But that brilliance, he added, only goes so far.
"Actually, we're rubbish at films, really we're nothing compared to you guys, to the Indians, or the French. Because it's not in our DNA," he told a packed audience, as he spoke about his use of music in films and about his new movie, the art heist thriller Trance.
Boyle has always been known for his use of music, and it's integral to the creation of what he calls his "Hollywood endings." The thing that connects most of his films, he thinks, is the archetypal story of a character who triumphs in the face of overwhelming odds, and his soundtracks contribute to telling that story. Just think of the conclusion of Trainspotting and its clever use of Underworld's "Born Slippy" or the exuberant "Jai Ho" concluding dance of Slumdog Millionaire – a "Bollywood ending."
But Boyle points out that through much of his career, his soundtracks have tended to consist predominantly of the appropriation of previously composed songs rather than the creation of new scores written specifically for his movies.
In fact, he says that early on critics took him to task for this approach, arguing that his movies were too much like MTV, like "pop videos just stitched together." But he took the criticism as a compliment, he told moderator Logan Hill of Rolling Stone.
"Actually, I was quite proud of that," he said.
Pre-existing music, he points out, can have instant resonance because of its history. Songs, he says, can be "amazing things to use because they obviously bring a lot of baggage with them. You know them, from maybe your own experience with them from maybe long ago. They may have painful associations, and so they they inter-breathe with the material you're using, and I always love that."
There's even, he feels, a "visual dynamic" to every song – another way in which songs "keep the narrative moving forward."
Finding those songs isn't always easy. It often happens that they "drop in your lap, they come and find you."
In his first film, 1994's Shallow Grave, the music came to him in a cab. Boyle was shooting in Glasgow and said he had no idea for the ending of the movie. He got into a taxi whose driver was playing Andy Williams' "Happy Heart."
"My dad used to play that song when I was a kid – he loved Andy Williams and those kind of crooners," Boyle said. "I literally remember getting into the cab and going, 'That's the end of the film.'"
"That's what I mean when it just falls in your lap," said Boyle. "Just when you leave the door open, in it walks. That's a wonderful moment."
For years, Boyle also felt that by using songs rather than composed scores, he was actually keeping control of the creative process. For example, when he worked on The Beach with composer Angelo Badalamenti, known for his collaborations with David Lynch, Boyle had trouble letting go.
"I couldn't really give him the film," is how Boyle puts it. "I have apologized to him since. There's a very important theme in the film where the travelers came across the beach itself… He wrote a lovely theme for it, and I didn't use it. In the end, I used "Porcelain" by Moby because it was a track. I realized in retrospect that it was me not surrendering the film to someone else enough."
Since then, he says, he's learned how to collaborate more, and he feels the music on his new film is a perfect example.
Ever since Trainspotting, Boyle has worked closely with Underworld's Rick Smith, who was himself first leery of allowing the group's music to be used for movies.
Smith, who showed up at the YTribeca evening as surprise on-stage guest, said that when Boyle first approached Underworld about using their music, they routinely turned down permission for their songs to be used in movies.
"At the time, we'd get requests every week from somebody to use our music, and it was always the same kind of thing: violent, death, blood dripping," Smith said. "It used to really upset us."
And they were prepared to say no to Boyle, too, until he showed them some Trainspotting footage.
"We saw about fifteen minutes of the film, actually the scene where Ewan [McGregor] goes down the toilet," he said, and the immediate reaction was: "It's all right – you can do anything you want. You can have anything. The rest is history."
The newest chapter in that history is Trance, which opens next week, March 27, in the U.K. and at the beginning next month, April 5, in the U.S.
Boyle showed a few minutes of the movie's opening scene, a rivetingly choreographed robbery at an art auction, to the YTribeca audience.
It looks like an art heist movie, but Boyle tells people not to jump to conclusions.
"It's actually about stolen memories," says the director, who points out that he loves to play with genres.
"We often use genre as a bait to get people in," he says. "You'll hear it's an art house movie, you'll hear it's an amnesia movie, you'll hear it's a femme fatale movie. It's sort of none of those things."
It's a movie that has the obvious slam-bang action of the robbery, coupled with the quiet of hypnotic trances, and the music plays an important role throughout.
"It was up to Rick [Smith] to try and score these trances as you go deeper with him, and it's a weird mixture. It's relaxation, but you don't want the audience to fall asleep – and yet he's got to make it look like [James] McAvoy being's taken into a trance. That was Rick's puzzle to try and balance."
Still, for all the balancing and hard work Boyle and his collaborators have engaged in over the years, there's one puzzle he's never been able to solve: how to put his favorite song into one of his movies.
"White Man in Hammersmith Palais" by the Clash is "the greatest song ever written," he says. "I won't hear any arguments about that."
But, he adds, he's "tried to use it in like 10 films, it doesn't quite make it any time." Like relationships with your loved ones, he says, it's something that can't be pushed. If it's not right, it's just not right.
"They do mean that much to me personally, these songs, they are our lives and you realize they are your lives, you know, your relationship with them exists over decades. You know your favorite ones," Boyle explains. "They're really involved things, not to be misused, to be used with as much care as possible."
Read More
Filed Under: