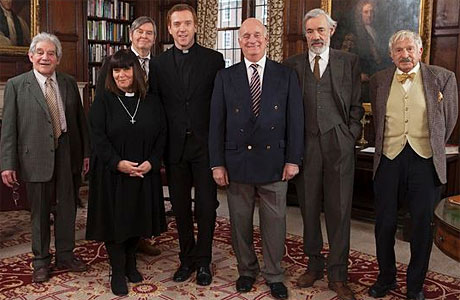 It's Comic Relief time again, in the UK, and that means, among other things, a lot of money raised for charitable causes, a lot of awareness raised as to why that money needed gathering together, and a few old TV shows raised from the dead.
This year it's the turn of The Vicar of Dibley, which is coming back for one 10-minute special as part of tomorrow night's (March 15) telethon. And the gang's all here! It's been written by Richard Curtis, starring Dawn French and featuring a special guest performance from Damian Lewis. He joins a select group of star guests that have made the trip to this mythical Oxfordshire village, including Kylie Minogue, Darcey Bussell, Sarah Ferguson and Johnny Depp.
Dawn, who is looking a LOT more svelte since the last time she donned the dog collar and robes, has a fairly clear idea as to why everyone should tune in, apart from all the hilarity, natch: "Viewers should watch this sketch because it's the first time we've been together for ages, so everyone can witness the rapid deterioration of us all."
Explaining something of the plot, which involves a mission to London, she went on:
"I don't want to give too much away about the sketch, but the Vicar heads up the fight for equality in church law."
For his part, Damian added: "Some of my favourite actors are in The Vicar of Dibley and I grew up watching them on the TV.
"Filming this has been a bit like filming on stage. We've rehearsed it a bit like you would if you were doing theatre because we shot it so quickly. It's got a lovely atmosphere to it."
And the ever-dour Roger Lloyd-Pack, who plays the disgusting farmer Owen Nesbitt, had this to add: "I doubt we're going to do any more of them… For those people who like The Vicar of Dibley sketches, it's probably the last chance they'll get to see a new episode."
We shall just have to see about that, won't we…
Read More
Filed Under: