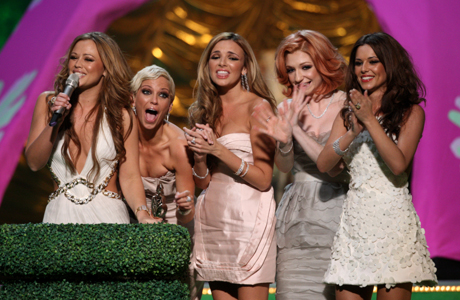 It must be lovely to be a rocksnob. Imagine how much time you save in your music-loving day having your decisions already made for you. Your taste predisposes you towards things with guitars, things that sound like other things with guitars that have gone before, in an eternal lineage that stretches back over the 20th Century, forming a spiderweb pantheon of eternal glory in the sky.
So you don't have to worry about whether this modern pop music is for you. You can put your shields up and crack on with your life, feeling reasonably safe in the assumption that the combined efforts of reality TV and Simon Cowell are unlikely to commission any music that appeals to your ears, even if you wanted to give it a go (and let's face it, you don't).
This is the world Girls Aloud were born into. No expectations of longevity or quality or astonishment, just a cash-in group made from a reality TV show that ran for a few weeks back in 2002. All anyone required of them was a drippy ballad, some suggestive photoshoots with a lads' magazine or two, and the good grace to not be too moany when their short trip down the helter skelter was over.
Instead, we got this:
And then this:
And before too long, it became apparent that their particular brand of pop music was beginning to trouble the ears of people who'd been quite happy to give the whole genre the swerve previously. And this was principally because their production team – Xenomania – had twigged one very important thing about pop music: it is supposed to be fun. It's supposed to raise the spirits and fill dancefloors.
We'd had what felt like decades of appalling balladeer boybands until Girls Aloud came along, and they, with a little help from the Sugababes and Britney Spears, wiped all of that nonsense away (in the not-America of the world, at least). They're the reason that One Direction and the Wanted are singing songs with a bit of pep in them. They're the reason Taylor Swift is effectively her generation's Morrissey. We should be putting up statues to these people for these facts alone.
However, nothing in pop lasts forever. The new music started to take longer and longer to arrive; reports of arguments and bickering among the band members were circulating, and then Cheryl Cole agreed to be a judge on the UK X Factor, which dominated the time she wasn't spending developing a solo career. The powderkeg was getting perilously close to the sparkplug, or something.
Time for one last work of astonishment, then a break:
By now it was becoming clear that this band had a ticking clock over its head. And even this year, when they all got back together, nothing ever felt permanent. The reunion tour came and went, the assets were stripped bare, and just as the final handclap sounded from the stalls at the final concert (yesterday, in Liverpool), this message arrived on Twitter:
"Dear Alouders, we just want to say from the bottom of our hearts Thank you!! This tour has been an amazing experience and the perfect chance to say thank you for being on this journey with us through a decade. It has far exceeded any of our dreams and we hope we are forever your inspiration and reminder that dreams really do glitter!! Your love and support will stay with us forever but we have now come to the end of our incredible time together . Love you lots."
To which I would personally like to reply, in kind:
"Dear Aloud, I just want to say thank you for surprising everyone with the potency of pop music once again. It was a lot of fun while it lasted, and I think we all know that no one, least of all yourselves, expected there to be more than two or three years of this thing, so to have reached a decade in any shape at all is no mean feat. I don't think you'll be my inspiration forever, sadly, because that's quite a lot to ask. It's a shame you are splitting up, but I am sure we shall all manage, just as I'm sure you already know you will. See you for the re-reunion in 2023! Kind regards."
You can try and talk me out of the Morrissey thing below, if you like: 
Read More
Filed Under: