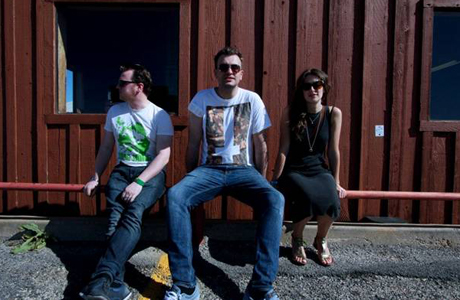 Jon McClure, frontman and "Reverend" of the Sheffield five-piece band Reverend and the Makers, was part of the annual British Invasion in Austin this past month during South By Southwest. What were his thoughts on making the Texas pilgrimage for the very first time? He provides a look inside his SXSW diary exclusively to Anglophenia.
My experience of America is limited. I visited once to mix my second album, in the "bad old days," which basically involved me rolling round Los Angeles for a week and generally spending time out of mind. The U.S. is generally a massive hole in my travel itinerary. I've been to 31 countries and have always felt like me and America have unfinished business. I am, after all, the same fella who once turned down a slot on Letterman. (It's a long story don't ask!!!)
So here I am up in Texas, after a brief few days playing a show in a rain-soaked New York.
First impressions are the heat. The U.K. lives up to its billing as a small, cold, wet and miserable lump of rock in the north Atlantic around this time of year, so the southern sun is more than welcome. We hear lots about SXSW in the U.K. In my naive imagination, I guess it had always been a yearly sojourn for music industry execs, keen to max out the expenses whilst pretending to have watched the "next big thing."
What I didn't bank on was the city of Austin. The place is insane. Like an urban Glastonbury with added sunshine, Austin seems like a mecca for every lunatic between El Paso and the Niagara Falls. Needless to say, I felt right at home. The first thing that struck about me about Texans is they love being super friendly.
It kind of puts you straight at ease hearing blokes who look like they could go 10 rounds with Tyson politely replying "Yes, maaam" in the IHOP. The whole place had a laid back feel not dissimilar to the north of England.
Our motel was straight out of My Name Is Earl. In fact, everywhere British people go in America feels like a film. We did the usual tourist things. Rode out into the desert and played Johnny Cash records, wound the windows down and played Steppenwolf's "Born to be Wild" at full volume, but we were really here for the music. My friend Mark Stoney, who moved from Sheffield to Austin several years ago, had warned me, but how could anything prepare you for the assault on the senses that this festival is? It seemed like downtown Austin had every musician in the world playing all at the same time. The streets bustled like ant colonies day and night as the inebriated masses, swayed by margaritas, Steiner Bocks and tequila (myself included), moved from venue to venue.
I was in my element. We must have watched a hundred bands play. Our own gigs were nothing short of a triumph. We played 3 in all. The first was at the packed British Embassy. The second, a showcase for our label The End Records, ended in a crazy stage invasion. Seeing actual real-life Americans going mental for our music is the stuff of dreams to kids who grew up on a steady diet of American music, film and TV.
All too soon, it was over. Getting on the plane was a hardship. The five days of straight partying had taken its toll. I could have happily slept in my motel room for another five had our flights been cancelled. If the rest of U.S. is even one percent as much fun as Austin, Texas and SXSW, then I cant wait to come back and tour again later in the year.
Oh and I am addicted to Tex-Mex, to the point where I am starting to wish England bordered Mexico. Until next time.
I've been Jon McClure.
The latest Reverend and the Makers album @reverend_makers is out now on The End Records. Here's the lead single, "Bassline."
Also, check out exclusive performances from South By Southwest from Frank Turner and Skinny Lister.
Read More
Filed Under: