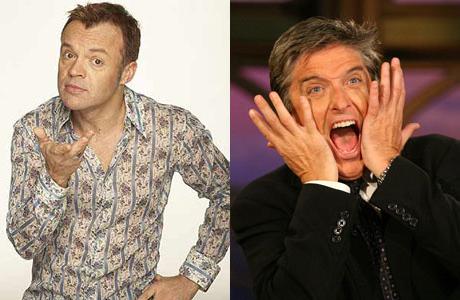 Talk show hosts are a chatty bunch and love to share their opinions on TV. We're not too surprised to see they're active in the Twittersphere.
1. Craig Ferguson
2 men trying oysters for the first time. #oneofuswussedout #notme#yech twitter.com/CraigyFerg/sta… — Craig Ferguson (@CraigyFerg) February 3, 2013
The Late Late Show's Ferguson is not only a self-proclaimed  Doctor Who fan but also adventurous, sharing his feats with the Twitterverse.
Stats: Tweets = 1,130; Followers: 1,570,141; Following: 92
3. Piers Morgan
Hi @harry_styles – if you need any help rebuilding your villainous image, let me know: huff.to/13rfnF3 — Piers Morgan (@piersmorgan) March 1, 2013
The host of Piers Morgan Tonight has been known to get in spats over Twitter but in this case he's looking out for fellow Brit Harry Styles (One Direction). Or, is he? We smell a bit of sarcasm … Stats: Tweets = 30,359; Followers = 3,296,137; Following = 548 4. Sherrie Hewson
@mrbell1985It is absolutely true it was very funny only a silly mad moment! We never did it again !!!! — sherrie hewson (@SherrieHewson) March 1, 2013
This sassy lady, co-host on Loose Women, replies to fans and in this case confirms the truth of a anecdotal story about being a "working girl" said on the Loose Women show earlier that day. Stats: Tweets = 9,456; Followers = 88,973; Following: 1,738
4. Jonathan Ross @wossy The Jonathan Ross Show
I just got drunk on my show with Justin Timberlake. His twqula is strong.

— jonathan ross (@wossy) February 22, 2013
The Jonathan Ross Show host is guilty of drunk Tweeting.
Stats: Tweets = 19,926; Followers = 2,980,849; Following: 5,661
5. Graham Norton
Chatsworth was our choice for a detour on the journey back to London. Beautiful scenic drive. Plenty of parking. It was shut.

— graham norton (@grahnort) January 13, 2013
The Graham Norton Show host uses Twitter to share his bad luck. It happens to the best of us. What do you do? Go on Twitter of course.
Stats: Tweets = 693 Tweets; Followers: 1,570,141; Following: 92
Who do you follow on Twitter? 
Read More
Filed Under: