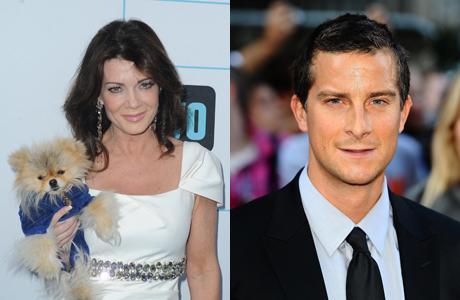 British reality stars come in all shapes and sizes including a housewive, an outdoors adventurer to a top chef. With that said, let's take a peek at how they go about Tweeting.
Lisa Vanderpump
RT @rumorfix EXCLUSIVE: @lisavanderpump to @adriennemaloof You liked my restaurant when you ate there free! bit.ly/14ykDTtToo funny

— Lisa Vanderpump (@LisaVanderpump) March 7, 2013
Lisa doesn't mince words and puts all her stuff out there including her beef with fellow Real Housewives of Beverly Hills castmate Adrienne Maloof. Stats: Tweets = 3,291; Followers = 529,956; Following = 214
Jamie Oliver
Guys there are loads of brilliant variations of the #1tweetrecipe have fun with it. Here is my full version bit.ly/VOzZnq big love

— Jamie Oliver (@jamieoliver) March 8, 2013
Chef Jamie uses Twitter for good not gossip and is getting the word out about healthy eating. Stats: Tweets = 10.530; Followers = 3,125,953; Following = 5,162
Gareth Malone
Ouch! @danielledeniese burning it up on #radio3 with @suzyklein – ferocious baROCKing. BRILLIANT. — Gareth Malone OBE (@GarethMalone) March 8, 2013
Gareth, host of The Choir, Tweets to support fellow musicians in all his Britishism glory.
Stats: Tweets = 3,661; Followers = 62,809; Following = 21
Luke Anderson
Join @jeffleach tomorrow, Royal Festival Hall, 10am to 'harlem shake' with him for @comicrelief + @jessiej Dares! ymlp.com/zREOdh

— Luke Anderson (@LukeA_BB) March 8, 2013
Luke is the latest winner of Big Brother and he's "shaking" those 15 minutes of fame. Stats: Tweets = 18,816; Followers = 41,397; Following = 8,808
Bear Grylls
packing gear for the start of NBC's GET OUT ALIVE with Bear Grylls… we start at dawn! wish us luck! — Bear Grylls (@BearGrylls) March 3, 2013
Oooh, good to know Bear that you're starting a new show. Now, that's how you use Twitter to get news out super quick.
Stats: Tweets = 3,778; Followers = 968,577; Following = 128
Who do you follow on Twitter?
Read More
Filed Under: