In BBC AMERICA new original series Orphan Black, a troubled outsider Sarah (Tatiana Maslany) witnesses the suicide of a woman who looks just like her. Sarah cleans out her lookalike's bank account and assumes her life but soon discovers that she's just one among many clones roaming the Earth — and that someone's trying to kill her.
Intriguing fiction or reality? You need only look to your TV screen to realize that clones are all around us. Our American celebrities may not know it, but there exists a parallel world on the other side of the Atlantic where there are people who look just like them.
Check out our list of stars and their transatlantic doppelgangers. See the strong "family" resemblance?
Alan Cumming and Paul "Pee Wee Herman" Reubens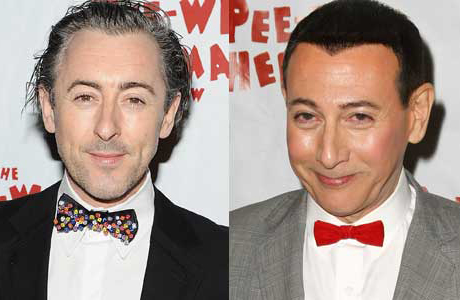 Episodes star Tamsin Greig and Rachel Maddow

Episodes star Stephen Mangan and Jerry Seinfeld

Kate Bush and Mary Steenburgen

Mark Strong and Andy Garcia

Thandie Newton and Zoe Saldana

Keira Knightley and Natalie Portman

Lark Rise to Candleford's Oliver Jackson-Cohen and Jake Gyllenhaal

Carey Mulligan and Michelle Williams

Sherlock's Andrew Scott (yes, he's Irish) and Mark Ruffalo

Game of Thrones' Emilia Clarke and Miley Cyrus

Daniel Radcliffe and Elijah Wood

Emily Blunt and Katy Perry

James McAvoy and Everwood's Gregory Smith (half-Canadian)

Cheryl Cole and Eva Longoria

Rufus Sewell and Joaquin Phoenix

Can you think of any other British celebrities who have American "clones"? Tell us below:
Orphan Black premieres Saturday, March 30 at 9/8c on BBC AMERICA.
Read More
Filed Under: