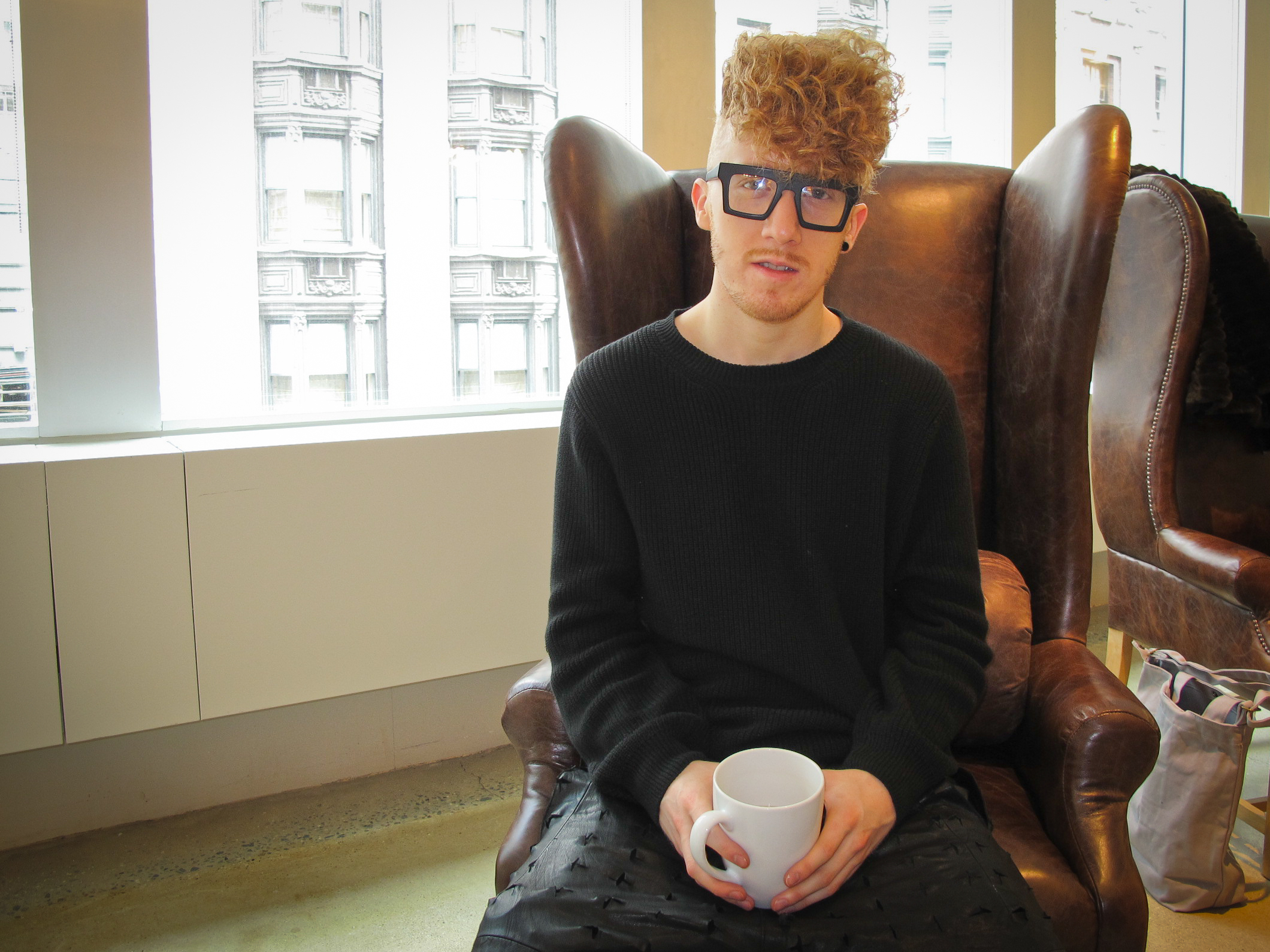 BBC AMERICA welcomed Daley to our office, the second British breakout star to pop by for a good old cuppa and a chat. The Manchester-born soul singer broke out when he guested on the Gorillaz's single "Doncamatic," but he came to stateside attention with a mixtape that signaled him as a talent who could sit alongside Miguel and Usher on urban radio.
In a post-Amy Winehouse world in which most British R&B vocalists are female (Adele, Lianne La Havas) or rootsy/retro (take your pick), Daley stands out as an English soul man with a sound that's very much of today. He cites Prince as well as Radiohead and Imogen Heap as influences. He is as notable for his covers (see his takes on "Love Is a Losing Game" and Maxwell's "Pretty Wings") as his famous collaborators. Jessie J provides back-up on the track "Remember Me," and he duets with ex-Floetry singer and fellow Brit Marsha Ambrosius for the single "Alone Together":
In person, he has a certain nerd-chic star quality, with a ginger Jheri-sculpture of hair and broad-rimmed glasses. We sat down to talk about Britpop, his Manchester roots, why he didn't want to cover a certain Madonna song, and those obvious comparisons to another red-haired soul singer who was popular in the '80s.
Anglo: You worked with Blur's Damon Albarn on the Gorillaz record "Doncamatic," and former Suede guitarist Bernard Butler is your producer. What did you learn from those two icons of Britpop?
Daley: Damon was obviously involved in my first real official venture out into the music world with my collaboration with Gorillaz. And it was a really strange collaboration. Now, if someone had asked me at that time, "Who do you think would be the first person to kind of champion what you're doing?," I wouldn't have said Damon Albarn, just because I wouldn't have seen how our worlds would've collided at that time. But he's just a musician. And he loves soul. It was very reassuring for me at that time to just see someone of that caliber of success recognize something in me. He actually taught me things when we were in the studio, like don't over-think things too much. Just kind of do what feels natural. Once you've done something, don't feel like you have to go through it and chop it and dissect it.
I've been working with Bernard since even before [my Gorillaz record], like really early on. I just really enjoy working with him. We have a very interesting dynamic because his background is more band guitar-based. I'm really excited about the stuff we've done for the album because I just think it's really unique. It's a blend of slightly electronic stuff. [Damon and Bernard] are both from the same school [of rock], the same era. Suede and Blur. It's been cool. And it's been nice to keep that Britishness in the mix of what we're doing.
Anglo: Bernard sort of segued from guitar rock to soul with his collaborations with David McAlmont and then he started producing for people like Duffy. Now he's working with you.
Daley: We actually got put together by my U.K. label when I first got signed. And I know that what they were thinking is "Oh, he's just done a Duffy album. Let's get him on the next white person doing soul." I'm pretty sure that was the general office discussion, but it didn't turn out like that because the stuff we've done is nothing like anything else I've heard him do. So it's kind of a little triumph in that way.
Anglo: You really transform Madonna's "Like a Virgin" in your cover of the song. How did you end up doing it?
Daley: I can't even take all credit for that really. I didn't want to do it originally because it was when I was in the U.K., just before I put my mixtape out and I was invited onto a radio show, BBC 1Xtra. And part of the feature for that show was a thing where they gave a guest artist a song [in a style that's] not what they would normally do — and they basically have to interpret it.
We got an email a few days before: "They want you to sing 'Like a Virgin.'" They pick it out of a hat. I was like, "Can we say that I'm ill? Can we say that I really just got the flu, and I can't be there? Let's do another day." I was seriously considering that because I listened to the [original] song. I was thinking, "How can this even be done?" Like, this can't be done! But then next time I was in the studio with my guitarist, we were just "Let's just learn the chords and see."
And literally the version that is out is the very first time I sang it. We played the chords around a few times, and then I hit record. And then we just did it. And we were like, "I think this is okay. This might work."
I kinda have the BBC 1Xtra DJ in the U.K. to thank for that. I think some people love it; some people hate it. But regardless, I'm just proud that we managed to do it.
Anglo: How do you feel about the comparisons to Mick Hucknall of Simply Red, given you're both red-haired guys from Manchester who sing soul? What are your thoughts on him as an artist, and were you at all influenced by him?
Daley: I don't think I was influenced by him. I do remember hearing his music as I was growing up, and he's got some great songs. Amazing songs. And it's catchy. It does remind me of when I was younger, but it's definitely not musically that I was inspired by.
I think there are too many similarities [between us], really. We're both from Manchester. We're both white guys doing soul, whatever you want to call it. And we both got red hair. I kinda couldn't avoid [being compared to him], but it's not an insult, you know. He's a very talented guy.
Anglo: Being from Manchester, who's your favorite Manchester band?
Daley: I think probably The Smiths. Obviously they were slightly before my time, but my dad's a big Smiths fan, and it was music that I heard [growing up]. It's kind of a bit nostalgic. And when I got a bit older and really got into listening to their music, I was like, "Morrissey's an incredible songwriter."

Anglo: What advice would you give to teens who are growing up now, young people who are looking to get into music? They have many tools that are their disposal right now with like computer programs that teach them how to produce their own songs.
Daley: Creatively, in terms of actually making the music, I would say study other artists. If you're really at that beginning stage, find an artist that inspires you, that you really love and you want to listen to everything they've ever done. Mine was Prince. I just wanted to listen to every album and really just delve into it. I think that's a good place to start if you're not sure. And then you'll gradually start to listen to work out what you like.
And then when you come to making music, you can do it two ways. If you know an instrument, then work on that and really hone your craft. If you're more a producer or a songwriter, find the means to do that. You can do it on the computers now. Or just get out into the world, and find people who have the same taste as you or want to do the same kind of thing as you. In terms of being seen, I just think having an online presence is a massive thing. I found my management through MySpace years ago when I had a profile [there]. I really worked on my profile, and got it looking good. That's your first impression on the rest of the world. If you're in a little town like Manchester or something, a record exec in L.A. could look at your MySpace page. It could happen. You've got to have that stuff out there. So, yeah, social networks and just find what inspires you. And find how that relates to you.
Read More
Filed Under: