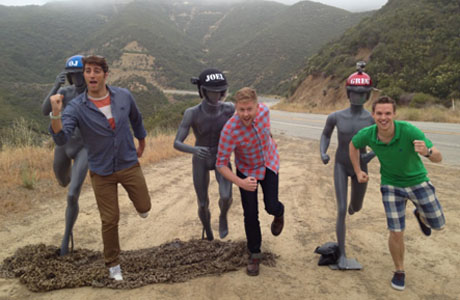 BBC AMERICA just announced this via press release:
BBC AMERICA partners with the go-to authority for gadget news and digital culture, Gizmodo, on a new special for fans of both gadgets and mischief, Gizmodo: The Gadget Testers. For the first time ever, Gizmodo's team of tech-obsessed hosts will blast their way onto TV, following the season finale of Top Gear. Join reporters Joel Johnson, Greg Foot, O.J Borg, and Veronica Belmont as they use their technological expertise to test all manner of the latest gadgets, devices, and household appliances in outrageous, adrenaline-charged and sometimes dangerous ways. Gizmodo: The Gadget Testers premieres Monday, March 18, 10:20pm ET/PT.
The team of gadget testers put miniature action cameras to the test — for picture quality, durability and sound — through heart pumping challenges they call "Battlemodo," including street luge racing and sumo wrestling. They'll battle it out to see which camera's picture truly holds up against speeds of nearly 60 mph only inches above the ground, how durable they are when faced with the crushing weight of 370lb, world sumo champion "Byamba" and sound quality when being thrashed to the mat.
They'll also pit traditional and non-traditional vacuums in a head-to-head battle to determine which brand can stand up to a stairway to hell — an outdoor staircase in Baldwin Park California — and a chicken coop filled with feathers, feathers and more feathers. They'll measure for mobility and suction and crown one as the master cleaning device. Whether racing, thrashing or climbing, our team is on a mission to find out which of their picks make the cut — and which ones fail to make the grade.
Gizmodo editor and host Joel Johnson seems pretty psyched with his own announcement entitled, Hold on Tight, Gizmodo is a TV Show Now, writing, "Working on a Gizmodo TV show has gone from strange to surreal to back to just another gig to (now) kind of surreal again." You can read his entire article, here.
What's your most prized gadget?
Read More
Filed Under: