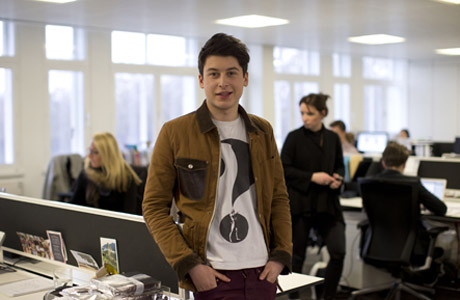 It is only natural to be a little gobsmacked when hearing about 17-year-old British high schooler Nick D'Aloisio who just sold his iPhone app called Summly for $30 million to Yahoo, according to Gawker.com.
He began coding at 9-years-old, so don't beat yourself up too much for not coming up with the idea. D'Aloisio apparently started working on the app when he was 15, writing an algorithm to automatically create 400-character summaries of news articles and deliver them to smartphones.
There are critics out there saying this app is a dime-a-dozen and D'Aloisio's invention isn't anything spectacular like tech insider Vibhu Norby who wrote a post on his blog entitled, The Summly Deal Makes No Sense. He makes a guestimate on how the deal went down and sums it up by saying:
"What?????? The craziest thing is that there are a lot of really qualified, CS-beefy teams doing really amazing things in the mobile news/discovery space these days – and that would definitely take a $30m acquisition offer or less. I don't really understand why they picked this one."
Sounds like someone is a jelly belly.
Readers are chiming in writing comments to congratulate him and also reminisce about what they were doing at 17… and, it wasn't writing algorithms. Well, neither were we.
Doubters may think this kid just lucked out and his age acted as a platform for Yahoo to be "cool" but D'Aloisio is not only tech savvy yet also business-minded having recruited early investors like businesswoman Wendi Murdoch, actor Ashton Kutcher, Yoko Ono and Li Ka-shing, the Hong Kong billionaire.
He's thankful to the early investors saying, "They took a gamble on me when I was a 15-year-old," by providing seed financing that let him hire employees and lease office space, reports The New York Times.
When asked about the recent sale he said, "If you have a good idea, or you think there's a gap in the market, just go out and launch it because there are investors across the world right now looking for companies to invest in."
It is a simple concept but a theory that can be applied to a multitude of industries. And, sometimes, it takes a high schooler to remind us to stop griping about what "could've", "should've" been done and just go out there and make something happen.
D'Aloisio currently lives with his mum and dad in London and has a year and a half in high school. He's in the process of making arrangements to test out of his classes and work from the Yahoo office in London, partly due to the company's controversial policy that prohibits employees working from home. In addition to coding and writing algorithms he enjoys cricket … just a normal guy.
Wonder what his first big purchase will be? 
Read More
Filed Under: