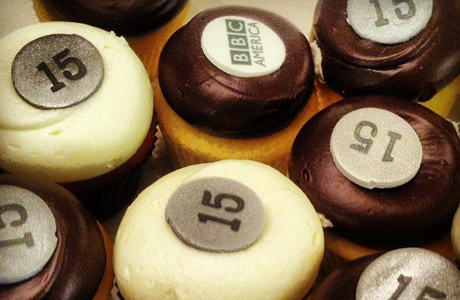 Ahead of one of the network's biggest nights in its history — the Supernatural Saturday launch of new Doctor Who episodes and premieres of Orphan Black and The Nerdist on March 30 — BBC AMERICA celebrates its 15th birthday today (March 29).
While most of us were pockmarked, fumbling outcasts at 15, BBC AMERICA is looking pretty flashy these days, with Doctor Who a true mainstream phenomenon splashed on the covers of EW and TV Guide; Copper, Orphan Black, Fleming, and The Three Musketeers signaling a bright future in original programming; and shows like Ripper Street, Top Gear, Luther, and Being Human bringing both buzz and critical acclaim.
Let's take a look back at some moments that we here at Anglophenia have loved from the network over the years, in no particular order.
1. The Doctor has fish fingers and custard on Doctor Who
2. Sam Tyler wakes up in 1973 in Life On Mars
3. Tanya and Amber tussle on Footballers Wives
4. David Tennant does "The Boy with the Thorn in His Side" on Viva Blackpool
5. David Brent does the dance that will live in infamy on The Office
6. Idris Elba wins Golden Globe for Luther
7. The Box Tunnel massacre on Being Human
8. Will Smith does the Fresh Prince of Bel-Air theme song on The Graham Norton Show
9. The vomit scene on The Inbetweeners
10. The Royal Wedding
11. Top Gear's Reliant Robin stunt
12. Torchwood: Children of Earth, which premiered across five nights
13. Guy of Gisborne kills Marian on Robin Hood
14. The Coupling ladies demonstrate flirtation techniques on a waiter
15. The premiere of Copper, BBC AMERICA's first original scripted series
BONUS: John Barrowman and David Tennant kiss at San Diego Comic-Con 2009
And antiques hunk Alistair Appleton on Cash in the Attic (gotta represent home and living)
What has been your favorite BBC AMERICA moment? Tell us below:
Read More
Filed Under: