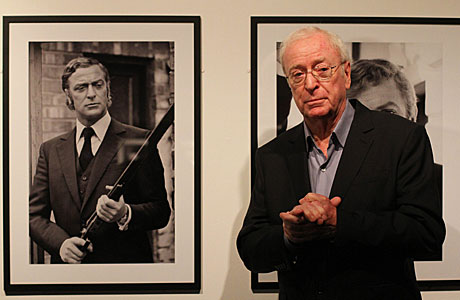 This Thursday is Sir Michael Caine's 80th birthday. A movie legend, double oscar winner, and, as of two days ago, recipient of the Freedom of the City of London.
We'll be running a few features about his life and work all this week, because frankly he is worth it. But first, to get the party started, here's a brief playlist of some of Sir Michael's most memorable musical moments:
"Alfie" – Cilla Black
Alfie is a movie in which a randy man is fairly rotten to a bunch of women, until finally the penny drops that he is being rotten and he has to face the consequences of his rottenness. But rather than focus on the full seedy horror of his youthful hijinks, Burt Bacharach elected to write an elegiac, questing song that simply demands to know what on earth Alfie thinks he is doing. And by giving the song to Cilla Black, in full scouse klaxon mode, it's not as if he could claim not to have heard.
"Get Carter Theme" – Roy Budd
Not just a spooky theme song for a fairly brutal film, but also a proto chillout song, in which soft jazz is given something of a Scooby Doo makeover, with ringing, plucked piano strings tolling away in a deep dark well. Great for dinner parties with the undead.
"Scrooge" (A Muppet Christmas Carol)
Lots of actors have played Scrooge over the years. Very few have been sung about by Muppets. Advantage Caine.
"Michael Caine" – Madness
Still fewer have been named in song by Madness, introduced themselves within that same song, and then found out the song isn't really about them after all. It's the song of an informant in Northern Ireland, whose split loyalties unconsciously mirror those of Michael's character in The Ipcress File.
Speaking of which…
"The Ipcress File Theme" – John Barry
John Barry  was very good at spy music. Michael Caine was very good in The Ipress File, playing a spy. And you can't even accuse this of sounding a bit James Bond, as it was John that arranged the Bond theme in the first place.
"Getta Bloomin' Move On (The Self-Preservation Society)" – Quincy Jones (The Italian Job)
And if that seems a little silly, there's always…
"On Days Like These" – Matt Munro (The Italian Job)
The Italian Job is welded to British culture the way John Wayne films are welded to America. Both of these songs represent different aspects of the film. The former grabs the matey palaver of the heist, adds bongos and some authentic cockney rhyming slang and general sense of riotous glee. The latter, the suave and debonair spirit that is about to be threatened by a gang of thieves crossing Turin in Minis loaded down with gold. Or to put it another way, the latter is Noel Coward, the former Michael Caine.
"Batman Theme" – The Jam
This one's a bit of a cheat, in that Neil Hefti's immortal "Batman Theme" isn't really used in the Christopher Nolan Dark Knight films that Michael is in. However, as fit as they may be for purpose, it's not as if anyone can hum the actual soundtracks from those films, so we've picked the supercharged version recorded by the Jam on their first album to reinforce the Brit angle and generally emphasise the sterling job Michael has done as Bruce Wayne's butler Alfred.
Also, did you know that of the nine movies Christopher Nolan has made, Sir Michael is in five of them?
"It's Over" (Little Voice)
This one is more than a little NSFW, language-wise, but it's amazing:
The story so far: Sir Michael is Ray Say, an entrepreneur who notices that the socially-withdrawn daughter of his current fling (played by Jane Horrocks) has a prodigious talent for mimicking the female singers of the '40s and '50s. He arranges a concert for her, convinced he'll make it big as her agent, and she fails to turn up. He then proceeds to fall apart, spectacularly.
And finally, a personal choice from the man himself:
"Sinnerman" – Nina Simone (Felix Da Housecat's Heavenly House Mix) 
Not a lot of people know this, but Michael Caine is a devotee of chillout music. In fact he's so into his relaxing house vibes that he even released a compilation of his favorites, entitled "Cained,", with a little help from his good friend Sir Elton John.
Check back later this week for more Sir Michael Caine At 80 malarkey.
Read More
Filed Under: