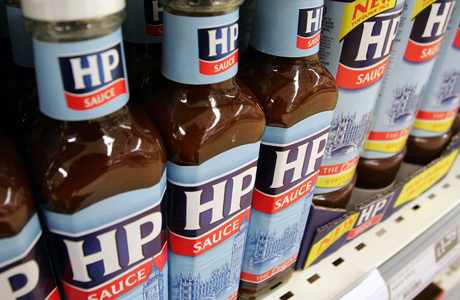 Sure, expats can order the stuff we miss on the Internet, or even find it on sale in the U.S. But my local supermarket prices its British imports at twice to three times what I'd pay back home. And massive delivery fees make international online shopping even less appealing. So, on trips back to Blighty, my trusty companion is a half empty suitcase. On the return leg, this is what you'll find stashed under my jumpers.
Marmite
Two of the large squeezy bottles will last my British husband and me six months, and I get all panicky if we run out. Our lazy Sunday lunch option is several rounds of Marmite, cheese and cucumber sandwiches made with Cabot Seriously Sharp cheddar — the only U.S. supermarket brand that says it's mature and means it.
J-cloths
As far as I can tell, Americans wipe surfaces with sponges or kitchen paper, not the reusable crosshatched fabric squares we all grew up with. I get that they're not massively hygienic — at least if you don't rinse properly and allow food chunks to fester — but this Brit just can't get that kitchen-clean feeling without them.
Teabags
I have a whole shelf given over to proper British tea — mostly boxes of Yorkshire Gold. But a well-trained expat will always have a selection on hand — at the very least, PG Tips and Tetley.
HP Sauce
Otherwise known as brown sauce, you'll find that this British bacon sarnie essential is also an effective condiment for many stock American foodstuffs, from hotdogs to omelets. My fridge is never without a large bottle of the spicy, sweet gloop.
Coffee
While there's no shortage of cafes round my way selling decent java, the cheap, store-bought stuff is undrinkable. To achieve a decent cup of home-brewed Joe, I need to spend upwards of ten bucks a packet. Meanwhile, back in Sainsbury's, a brick of vacuum-packed Lavazza sells for around four quid and is much more palatable than anything I've found here. Incidentally, whoever it was that told me to investigate Dunkin' Donuts coffee needs their taste buds spanked.
Lea & Perrins
Heinz make a version of Worcestershire sauce that they sell in most American supermarkets, but it's not as good as this British-brewed cheese on toast and bolognese booster.
Marks and Spencer's knickers
This stalwart British retailer makes the best reasonably priced pants (the undergarment kind, in case any American readers are confused), for men and women. I wouldn't slide my butt into anything less.
Custard Creams, Bourbons and Jammy Dodgers
Add these, plus virtually any other cheap British biscuit, to your suitcase for an instant hit of home. Remember to wrap lovingly in clothing layers to prevent them turning to powder in transit. Inevitably, a few will crumble but plenty will survive to become tea-dunkers.
Angel Delight
The nearest American equivalent to this heavenly childhood dessert (it comes in sachets, you add milk and whisk) is what they call "pudding," but it's not the same. My inner eight-year-old can't be without the Butterscotch variety for too long.
Pick 'n' Mix
Cheap and nasty candy in the U.K. is, I'm afraid, far more delicious than anything U.S. made. I always head back to New York heavy with chocolate covered bananas, shrimps, Drumsticks and Blackjacks.
What British items do you stock up on when you visit Britain? Tell us below:
Read More
Filed Under: