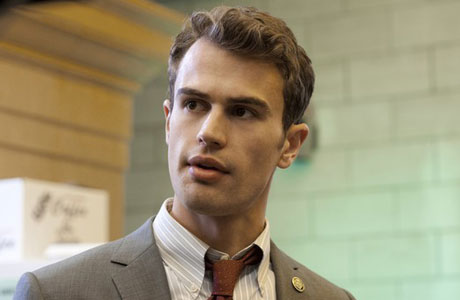 In those ads for CBS' Golden Boy, premiering tonight (February 26), you may have recognized a familiar British face. Who is that plummy-lipped actor, and where have you seen him before?
Well, the actor is Theo James. He may be best-known thus far for his short-lived role on Downton Abbey as the Turkish diplomat who deflowered Lady Mary (Michelle Dockery) and didn't live to tell the tale. (That guest spot drove a tremendous amount of story on the series, leading to Mary's blackmail by a wealthy suitor and delaying her romance with Matthew.)
But BBC AMERICA viewers know James as Jed Harper on the Supernatural Saturday series Bedlam, in which he played an oft towel-clad resident of a haunted apartment complex. His character had a "sixth sense" in that he could see ghosts. Imagine a grown-up Haley Joel Osment with a Bally's membership:
Now James plays upstart NYC copper Walter Clark on Golden Boy, which has a handy device in which Clark narrates the story from seven years in the future, after he's become the city's youngest-ever police commissioner. Clearly, producers of the show aren't going to let James's abs go to waste:
http://www.youtube.com/watch?v=4bQVGiy6afk
Will you be watching Golden Boy?
Read More
Filed Under: