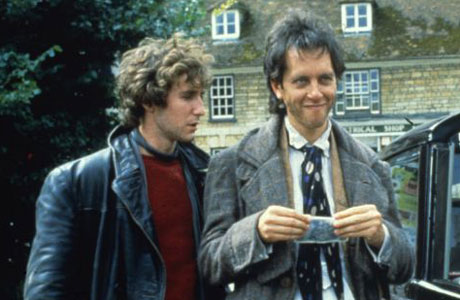 We can't resist a "Greatest" or a "Best Of" list, and the Radio Times has released a big one this week, employing longtime film critic Barry Norman to compile the 49 very best British films of all-time. (Why the odd number, you might ask? The magazine wants readers to vote for No. 50.) The list includes most of the expected contenders — The 39 Steps, Brief Encounter, Lawrence of Arabia, and The Bridge on the River Kwai are automatic inclusions — but there are a few head scratchers. Namely, the two most recent choices, 2010's Oscar winner The King's Speech and a film from just this past November, the Bond flick Skyfall.
"Skyfall is sticking my neck out a bit, but I think it's the best of the Bond films so far and I think it will be watched in years to come," said Norman.
That's a hefty call to make so soon, and I, like The Daily Telegraph's Robbie Collin, prefer the endlessly re-watchable Casino Royale (Daniel Craig's Bond debut) to the solid but not transcendent Skyfall. And The King's Speech soars primarily on its great performances and little else.
Here are a few movies that I would have included on such a list:
Withnail and I 1987
One of best buddy comedies ever made, featuring a cadaverous Richard E. Grant at his wittiest, future Eighth Doctor Paul McGann at the height of his sexy, and some of the best lines ever recorded (many of them delivered by Richard Griffiths, a creepy hoot as lecherous Uncle Monty).
My Beautiful Laundrette 1985
A truly surprising love story between a young Pakistani man living in London and his streetwise white ex-classmate (Daniel Day-Lewis, in what remains his most down-to-earth, accessible performance).
Peeping Tom 1960
For a list overflowing with Powell & Pressburger classics, this deeply unsettling Hitchcockian thriller, a Michael Powell solo work and film theorist's dream, is a major omission.
Here's Norman's full list:
Barry Lyndon 1975
Black Narcissus 1947
The Bridge on the River Kwai 1957
Brief Encounter 1945
Chariots of Fire 1981
A Clockwork Orange 1971
The Cruel Sea 1952
The DamBusters 1954
Dr No 1962
Don't Look Now 1973
Dracula 1958
Four Weddings and a Funeral 1994
The Full Monty 1997
Gandhi 1982
Get Carter 1971
Gladiator 2000
Great Expectations 1946
Gregory's Girl 1980
Henry V 1944
I Know Where I'm Going! 1945
if… 1968
The Ipcress File 1965
Kes 1969
Kind Hearts and Coronets 1949
The King's Speech 2010
The Lady Vanishes 1938
The Ladykillers 1955
Lawrence of Arabia 1962
The Life and Death of Colonel Blimp 1943
Local Hero 1983
The Long Good Friday 1979
A Matter of Life and Death 1946
Monty Python's Life of Brian 1979
Naked 1993
The Railway Children 1970
The Red Shoes 1948
The Remains of the Day 1993
Saturday Night and Sunday Morning 1960
Secrets & Lies 1995
Sense and Sensibility 1995
The Servant 1963
Shakespeare in Love 1998
Skyfall 2012
The Third Man 1949
The 39 Steps 1935
This Sporting Life 1963
Trainspotting 1996
Whisky Galore! 1949
Zulu 1964
What would you add to or remove from Norman's list? Tell us below:
Read More
Filed Under: