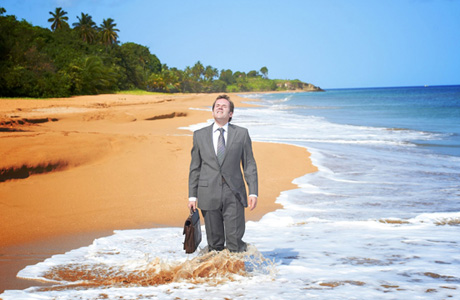 With close to 8 million viewers, Death in Paradise, a British crime-drama-comedy, has been recently commissioned for a third season in 2014.
What's on: Death in Paradise
What is it: A buttoned-up British police investigator Richard Poole (Ben Miller) heads to the Caribbean in search for answers after his colleague is found dead. He ends up deciding to stay and head the police force as chief.
Air-date: October 25, 2011 – Present on BBC1 (and, as of last month, you can watch the first series on PBS!)
Who's watching: 7.4 million Brits
Why so popular: People are drawn to fish-out-of-water stories, either because they relate to it or it's fun to watch the character flop around. This Brit is definitely out of his element but, as successful protagonists do, he adapts. The Caribbean setting allows viewers an instant holiday on the night's that they tune in.
American counterpart: Murder She Wrote with fellow Brit Jessica Landsbury solving and tidying up the case within the time frame of the show and Fantasy Island where people would go to indulge themselves but their wishes would typically backfire. If you're scratching your head at the mention of these shows, don't fret, the links are clickable with video clips.
"How was a British policeman killed in a rich man's panic room," asks Detective Inspector Poole in the Death in Paradise Trailer. Indeed, how? The trailer gives us a look at Poole's introduction to the locals and a bit of a tease as what to expect.
In the pilot episode we find DI Poole literally buttoned up with a full suite and tie, accessorized with a briefcase. Sure, that may be the norm for a police inspector in England but it's a bit much for tropical weather. The pilot expands on the details of the deceased police officer and who saw what, when, where … will Poole figure it out?

This clip compiles some of the best scenes in one place. Okay, it may be a bit of cheating to just skip ahead to the good bits, and a little bit of a spoiler, but when you watch the full episodes on PBS, well, they're good enough to watch twice!  Our favorite is when DI Poole runs up to a beach stand and while huffing and puffing he blurts out, "Is it too late for afternoon tea?" which it was. He takes out his badge and declares, "I'm a police officer. I'm a police officer and I want a cuppa tea." Which is your favorite scene?
Fans are chiming in on Twitter and, guess what, the show is responding! Fancy that.
@shysteve1980 thanks Steve! Let us know if you guess tonight's murderer!

— Death in Paradise (@deathinparadise) February 26, 2013
@ciaraliston13 ahh, us too!

— Death in Paradise (@deathinparadise) February 26, 2013
As expected, not everyone loves the show. The Guardian's Michael Hogan isn't as keen on this show as the other 8 million Brits with his article, bluntly entitled How on earth does this get so many viewers?, complaining that Death in Paradise is formulaic with each episode having a murder, Poole narrowing down the suspects, bringing every one into one room to backtrack and explain what actually happened.
That may be the case, but he forgets one major component in this formula, that's what people like. Viewers like having a beginning, middle and ending in one episode. As well as consistency, they know what to expect each week and the show delivers.
Are you going to find this on your local PBS station?
Read More
Filed Under: