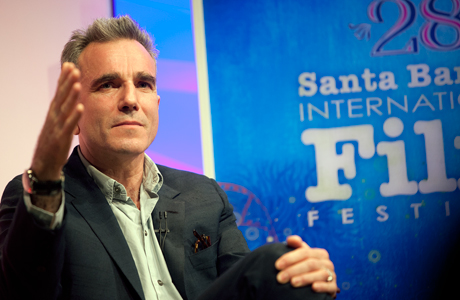 In the run up to the Oscars, the three best picture nominees with stories based on real people or events — Lincoln, Argo and Zero Dark Thirty — have all had the veracity of their storytelling challenged.
But Daniel Day-Lewis feels comfortable enough with Lincoln for it to be used as a tool to teach children history. On the red carpet at the Santa Barbara International Film Festival he said that: "If it contributes to what they learn, I like that idea. If it happens that the film can be useful in that way, then that's a nice thing."
Lincoln's director Steven Spielberg has also said that he will send free DVDs of the film for educational purposes to schools.
But Lincoln has been accused of factual inaccuracy and there's concern over its use as a teaching tool.
Earlier this month Congressman Joe Courtney from Connecticut complained that Lincoln had gotten it wrong when it portrayed his ancient congressional predecessors in the state as having voted against the abolition of slavery.
The film's screenwriter, Tony Kushner, conceded that the congressman was correct — he implied that the historical record was altered for the film to enable an important bigger point to be made — and he went on to explain that Lincoln is an historical drama not history.
Both Argo — and most controversially — Zero Dark Thirty have also been accused of misrepresenting the truth.
The accusations of inaccuracies in three of the Oscar nominated pictures has reignited a debate over the responsibilities of filmmakers who tell real stories.
British director Tom Hooper, who directed Les Misérables, believes fealty to fact to be of the utmost importance. He says: "I'm no stranger to films based on real people. I think there is a huge duty to research and be as accurate as possible with your filmmaking, because for a lot of people, they are going to not research beyond your movie and they're going to take your movie as historical fact whether or not it is."
Ben Affleck, the American director and star of Argo, believes it's important to get the facts right, but he's willing to sacrifice precise detail in order to get the bigger picture – he's referred to this as the "poet's" truth.
Affleck says: "With the poet's truth, you're getting at the essence of what's truthful even though you're not reproducing precisely the way that people talked or are going through sort of niggling details. If somebody drove a Chevy Impala rather than a Volkswagen Bug to a suicide bombing, that's not really the point. The point is that this larger event took place."
So what's your view? What kind of liberties should filmmakers take when telling stories based on real people and real events? Should they stray from the truth?
Read More
Filed Under: