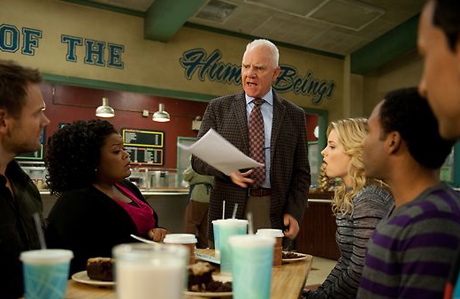 That headline, which makes us sound like some modern day Paul Revere, should have gotten your attention. But of course you noticed the quotes around the word "community," indicating that it's not your schools or even your shopping malls that are being taken over by the British. Instead the target is the hysterically clever NBC show with the loyal fan base that nevertheless – inexplicably – always seems to be struggling.
Well, tonight's invasion is a friendly one, with Community getting help from British actor Malcolm McDowell. The Clockwork Orange star plays a visiting history professor named Noel Cornwallis. And, as he explains in the clip below, the answer to your question is … yes.
To be honest, the episode is not about a British invasion but appears to be about (as much as Community can be said to be about anything in particular) what the show's characters view as a German student invasion of Greendale Community College. In fact, the episode is named, "Alternative History of the German Invasion." (It airs at 8p/7c tonight on NBC.)
However, the show continues to be the beneficiary of British guest stars. In addition to tonight's appearance by McDowell, Community was visited last week by British actor/comedian Matt Lucas. The Little Britain creator played Toby Weeks, a fan of Community's Doctor Who-like creation, Inspector Space Time – according to Abed (Danny Pudi), Toby is "arguably the biggest Inspector Space Time fan in the world."
http://youtu.be/e2F2PGzbJPI
If you missed last week's episode – largely an extended meta-parody of Doctor Who that takes place at an Inspector Space Time convention, "InspecTicon" – just click here.
Read More
Filed Under: