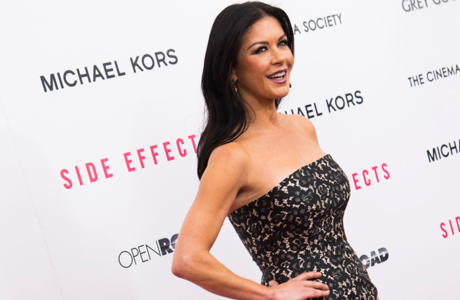 In promoting the new thriller Side Effects, Catherine Zeta-Jones, who plays a psychiatrist, has been noting that Americans still seem to talk much more openly about mental health issues.
The actress, who's had her own well publicized difficulties with bipolar disorder, says: "It's changed a lot recently but we as a British nation we have that stiff upper lip. That kind of mentality." She maintains that psychiatrists have been viewed as quacks — although she points out attitudes are changing.
The new picture looks at a case where a young New Yorker, played by Rooney Mara, commits a murderous act while sleepwalking — her somnolent activity is allegedly a side effect of a prescription medication for depression.
Zeta-Jones says: "We do live in a quick fix kind of pharmaceutical world and I've had my issues with that. That's the kind of culture that's the back story of the movie."
The film also stars Channing Tatum and Jude Law. It marks the final movie destined for the big screen from director Steven Soderbergh who's moving away from making films to other artistic pursuits.
Zeta-Jones, who's worked with him before, says: "I'm devastated, but we do have a project called Cleo, it's a rock musical that he wants to direct me on Broadway, so I have that to look forward to."
Read More
Filed Under: