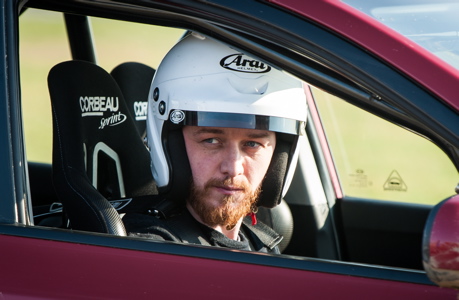 Red hot James McAvoy is next week's Star in A Reasonably Priced Car (premiering March 4). The Scottish actor's driving, writes TopGear.com was "tire-melting" (actually, it was "tyre-melting" – it's a British website, after all) and it was "even more impressive considering the Last King of Scotland star's only had his license for a shade over three years." (And, yes, the website had it as "licence" for those of you committed to British spelling.)
The following behind-the-scenes footage, writes Top Gear, was set to the song "Macbeth" from the band Hell, in honor of McAvoy's current West End run in Shakespeare's Scottish play:
• Speaking of stars in cars, here's a clever appearance from last week's show that was so brief that it probably slipped by you. Bruce Willis, whose newest Die Hard movie has just hit theaters, had a small, unannounced cameo on Top Gear. Yippee-kai-yay…
• Back to next week's episode, airing Monday March 4 at 9p/8c: also on the show is a Top Gear-designed car meant for older drivers – its top speed is 20 mph and local bingo halls are pre-programmed into the GPS ("sat nav" for those of you speaking only British).
And in a touching moment, the GPS system is voiced by the beloved British actor, Richard Briers, who sadly died last week.
The show also travels stateside once again, to the rugged terrain of Nevada, where James May drives a Range Rover in a challenge against a driverless car, which at one point is operated in "drone" mode – so it left us wondering whether the Senate confirmation battle over CIA director nominee John Brennan, the architect of the Obama administration's drone policy, is some sort of elaborate promo for the show.
• We have our winners in the Rate My Ride contest. Actually, they're your winners, since you chose them by voting for your favorites.
Feel free to salivate over these two entries – not only did these winners have these great cars, but they also received Top Gear DVDs and a Stig t-shirt.
First place went to Travis O., who sent in this photo of his 1979 MG Midget SunRunner:
Runner-up Corey K. sent in this photo of a 1960 Retro Rod Corvette, which has a new drive train with 460HP.
• Jalopnik hosted another interesting discussion about British and American automotive differences in comments about last week's program and the Ford Mustang. On the show, Jeremy Clarkson discussed plans to sell a British version of the iconic American car in the UK, but instead of having a powerful, and gas guzzling, V-8 engine, it will be fitted with a more economical and environmental Ecoboost 4-cylinder motor.
"The Mustang doesn't have the cultural implications it has in the US," wrote duurtlang. "It has no cultural meaning here." So why, the poster asks, would someone in England buy a large Mustang with the same type of engine that's in a much smaller Focus ST? "Give those cars similar engines, and the perceived advantage of the Mustang has changed into a disadvantage."
• On a different topic from last week's show, Jalopnik's editors announced in a headline that "Top Gear's Car Rugby May Be the Greatest Thing You Can Do In A Car."
• And finally, Top Gear Live wrapped up its Moscow performances a few days ago, and despite the mayhem and instability that the triumvirate are known to export, Vladimir Putin still seems to be firmly in power. Here's a video excerpt from a fan:
And here, if you have a bit more time, specifically an hour and a half, is the whole thing:
The next Top Gear Live will take place in Sydney on March 9 and 10.
Read More
Filed Under: