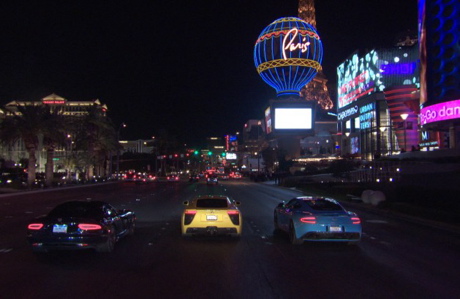 Road trip. Do any two words — with the exception of Top Gear, of course — strike such excitement in the hearts of car lovers, especially American car lovers? And in next week's episode, the triumvirate themselves are going on an epic road trip right here in the U.S of A, the country that invented road trips.
Jeremy Clarkson's going to be driving a Lexus LFA, Richard Hammond's in the new Dodge Viper and James May chose the latest Aston Martin Vanquish.
What's in store for the three guys? We can't tell you everything, but be prepared for airstrikes, cops and a mad dash to the Mexican border.
Meanwhile, from the safety of the Top Gear studios in London, Fleetwood Mac drummer Mick Fleetwood is this week's Star in a Reasonably Priced Car.
• "Jeremy Clarkson really outdid himself," on last week's debut episode of season 19 of Top Gear, writes the New York Post.
The newspaper was impressed with Clarkson's tiny P45, a car designed to emulate the Peel P50 by making it even smaller.
Another highlight of last week's show was James May joining race champion Kris Meeke at the WRC Rally GB in a Bentley Continental GT Speed.
• We told you it was coming. Even if you didn't believe us, you still have time, until Feb. 19, to enter our 'Rate My Ride' Giveaway. We should really say enter your 'Rate My Ride' Giveaway because, in fact, it's all about you. That's right, you send us a photo and you write up a brief description of your best ride. Then — here's that famous second person pronoun again — you get to vote on who you think has the best set of wheels. But now it's up to — you guessed it — YOU! Click here to send in your submission.
• TopGear.com was excited at seeing the trailer for Fast & Furious 6 that aired during the Super Bowl, and, frankly, so were we. Even though we'd lost track of exactly how many there'd already been. And what each of them is called exactly.
"After all, there's nothing we like more here at Top Gear than cars and fire and explosions and planes and so forth," the British website wrote, but they didn't really need to tell us that.
However the site did point out that in the trailer there's "a shot of a Vauxhall Astra police car (Vauxhall Astra!) flipping upside down in what appears to be the UK."
• Speaking of the Super Bowl, there were a few car ads we didn't have last week, so here they are. We saw the Toyota teaser with Kaley Cuoco — here's the game day ad:
http://youtu.be/iymBRSUfz9U
We also saw the Mercedes Benz "Soul" teaser in New Orleans. Here's the game day ad, complete with Willem Dafoe:
http://youtu.be/oPNr0_6MnDo
Cars.com's teaser ad suggested that people have come to expect too much drama in the process of buying a new car – here's the follow-up ad:
http://youtu.be/nazQNSEbiVk
In addition to its "Space Babies" ad, Kia had this "Hotbots" ad for the Forte:
http://youtu.be/emhtp2prOxQ
Here's the Toyota Tundra towing the space shuttle Endeavor:
http://www.youtube.com/watch?v=edYWDhH6hK4&feature=share&list=SPsOvRYzJPCwVGJuMtk8TX8be-rZsT2E-h
If you ever wondered just why some folks have a need for speed, Hyundai's Sonata Turbo ad answered that question:
http://www.youtube.com/watch?v=SohqIBOb03k&feature=share&list=PLxjlWoFMSh26rLJF68ufVQijv1JMZxvc1
And finally, a trio of Hyundai's Santa Fe ads, largely centered on kids:
http://www.youtube.com/watch?v=dn6vWm41o3k&feature=share&list=PLxjlWoFMSh26rLJF68ufVQijv1JMZxvc1
http://www.youtube.com/watch?v=RnuTO0z_Tcs&feature=share&list=PLxjlWoFMSh26rLJF68ufVQijv1JMZxvc1
http://www.youtube.com/watch?v=3jEU7yd4yuI&feature=share&list=PLxjlWoFMSh26rLJF68ufVQijv1JMZxvc1
Read More
Filed Under: