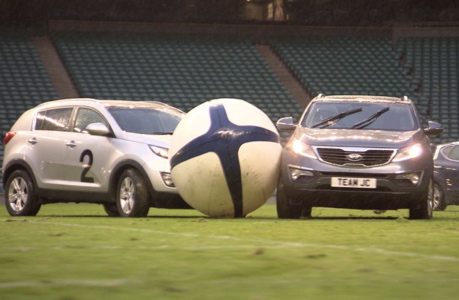 Next week's episode of Top Gear (February 25) involves serial indignities to the new Kia Cee'd involving a rock legend, an American cop, curry and (we're sure you saw this one coming) eels. Oh, and then the boys redefine the term "sports car" when they construct a rugby game with the aforementioned Kia Cee'd.
But don't take our word for any of this. Who better to preview the episode than Messrs. Clarkson, May and Hammond themselves:
http://youtu.be/BCqcvVgD7XE
As the boys mentioned, next week's Star in a Reasonably Priced Car is a celebrity very familiar with cars – race driver Lewis Hamilton. Here's a behind-the-scenes look:
The fun starts Monday, February 25 at 9p/8c.
• It's on to the second phase of our Rate My Ride contest. As you'll recall, we asked you to send in photos and descriptions of your favorite cars. Our panel of judges have winnowed down the overwhelming number of entries to just ten, and now we're handing the reigns of power back over to you: it's your turn to vote for your favorite. The winner will get a Stig t-shirt and a Top Gear DVD package (so will the first runner-up).
Here are thumbnails of  the ten finalists:
• Perhaps you'll remember Jeremy's drive in a teeny "P45," a specially designed super-mini car on this season's Top Gear premiere. It wasn't so much a mini-car, some observers noted, as a suit with wheels. But it got fantastic mileage.
Jeremy's P45 outing was of course reminiscent of his drive a number of seasons back (season 10, episode 3) in a P50, the car that inspired this season's segment.
Well, for those of you who love microcars, this past weekend was one of considerable sadness. For two decades, the Bruce Weiner Microcar Museum in Madison, Georgia, about 60 miles east of Atlanta, has displayed some 200 microcars from all over the world. But the museum's founder, Bruce Weiner, a chewing gum mogul, put the 200 cars up for auction – and got $9.1 million – 50 percent more than the $6 million pre-sale estimates.
"When you have something that's special, and three or four people are bidding on it, it's not going to go cheap," Weiner told the Atlanta Journal Constitution.
The good news for car lovers is that Weiner says he's going to use some of the proceeds of the auction to buy other car oddities for display.
BBC Autos has a great photo gallery of some of the microcars, including the P50 (above).
• We found an especially interesting posting over at Jalopnik on a comment thread about last week's episode of Top Gear. The comment came about in the midst of a long back-and-forth about whether Top Gear makes too much fun of Americans and, especially, our cars. But the author of the post, self-identified as ".AN2," went considerably beyond differences in cars and automotive outlooks and attempted to explain differences between British and American senses of humor. In a very real sense, .AN2 appears to be explaining the difference between American and British psyches, so we thought an extended excerpt of the post would be of interest to our readers. Yes, Top Gear makes fun of Americans, acknowledges .AN2, who goes on to explain why:
It's because we're British, and that's what British people do. We also make fun of the French, Italians, Germans, Greeks – most of Europe actually – Mexicans, Argentinians, Australians – and most especially of all, we make fun of the Brits. …
There's a notable split in the British and American senses of humour, that is cause of a lot of this kind of friction.
Brits are capable of making fun of ourselves in a way American's just don't seem to be able to: the guys on Top Gear regularly rag on British cars and how they're made in sheds in the Midlands, and how the electricity and fluid regularly escapes, and all that. And we're ok with this.
If an American show were to make fun of American cars like that, they'd be demonized, and practically hauled into the streets and shot. So when a British show does it, we get this moral outrage of "how dare someone make fun of something that's ours", without noticing that we do it to everything, including ourselves. To a degree, it's actually how we show affection. It's funny how that works really.
———————————-
So is that how it works? Do Americans and Brits have different senses of humor?
———————————-
Read More
Filed Under: