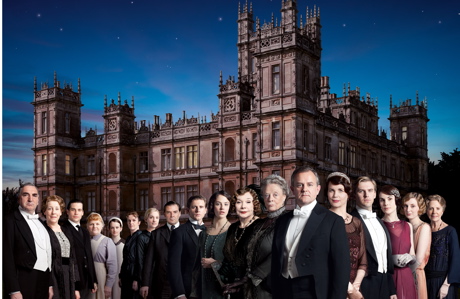 Now that Downton Abbey is over for another season, it's not for us to say what will happen on the hit drama next year. But we're going to, anyway.
Don't worry about spoilers (but please have watched the Season 3 finale). These aren't. We have no special knowledge about where creator-writer Julian Fellowes is going to take the period British drama in its fourth season.
But that isn't stopping us from gazing into our crystal ball and coming up with a list of possible plot twists. Thus, we humbly offer:
Ten Things That Will Happen on Downton Abbey in Season Four:
1. Mary will name her infant son Matthew, after his late father, her beloved and still much missed husband.
2. Mary and Robert will have to oversee together, with Tom's help, the running and restoration of Downton Abbey. They will use as a blueprint the plans that Matthew mapped out before his death. Mary will nix as too expensive Robert's proposal to build an indoor, regulation-size cricket field.
3. Cousin Rose, the annoying brat introduced in the penultimate episode of Season Three, will get into frequent scrapes and scandals while in temporary residence at Downton Abbey. Violet Crawley, the Dowager Countess, will be on constant call to read Rose the riot act.
4. Edith will pen a thinly disguised novel about her affair with Michael Gregson, her married London editor with the crazy wife kept in an asylum. And she'll get pregnant.
5. Mr. Carson and Mrs. Hughes finally will declare their hitherto unacknowledged passion for each other. They will even reveal their first names to each other.
6. Sarah O'Brien will be long gone, having finagled a new job as a ladies maid to Rose's mother, Sarah, the Marchioness of Flintshire, and gone off with her to India. There, the two women will continue to compete for the title of World's Crabbiest Person.
7. The two Toms, Tom Branson and Thomas Barrow, will find new loves, though not each other.
8. Alfred will finally fall for and wed Daisy, who pined for him for all of Season Three. The new couple will inherit her first father-in-law's farm upon his death, which they'll convert to a bed-and-breakfast, Daisy's Downton Digs, for vacationing Londoners.
9. Cora and Robert will learn to Charleston. She'll be better at it than he is. (The dance originated in 1923 and reached the height of its popularity three to four years later. Trends obviously took longer in those days.)
10. Despite her ever-advancing years, Violet, the Dowager Countess, will continue to drop brilliant, withering bon mots with the ease and frequency of Kim Kardashian landing a tabloid cover. She'll collaborate with Edith on an etiquette guidebook, What Would The Dowager Do?, offering pithy advice to fellow aristocrats on how to behave in the myriad tricky situations encountered in a waning empire.
—————————–  
What are your predictions for Downton Abbey's fourth season?
—————————–
Read More
Filed Under: