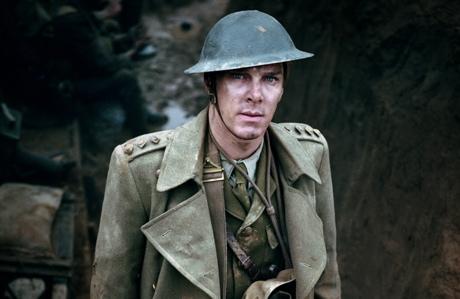 Downton Abbey's season may be over but fans of the period drama can again travel back to early 20th century England, this time in the impressive company of Benedict Cumberbatch and Rebecca Hall, when Parade's End begins on HBO tonight at 9 pm ET (Tues., Feb. 25).
Based on a quartet of novels by Ford Madox Ford (1873-1939) and adapted by Tom Stoppard – marking the celebrated playwright's return to television for the first time in more than three decades – the five-part miniseries will be shown on HBO over three consecutive nights.
In Parade's End, the busy, busy Cumberbatch (Sherlock) portrays Christopher Tietjens, a conservative British aristocrat wed to a cheating socialite wife (Rebecca Hall) but drawn to a young suffragette (Adelaide Clemens). The series begins during the Edwardian Era and goes through World War One.
Familiar British stars popping up in supporting roles include Miranda Richardson, Rufus Sewell, Janet McTeer and Anne-Marie Duff.
Here's a trailer:
Reviewing the series when it aired in the U.K. last August, TV critic Sam Wollaston raved in The Guardian, "Stoppard's script is tight and perfect, and there are fine performances wherever you look. Cumberbatch is superb as Christopher Tietjens – buttoned-up, clever, honorable, peculiarly English but also oddly endearing. The stand-out performance though is from Rebecca Hall as Sylvia, his socialite wife, who's self-centered and silly, but also so beautiful and captivating it's hard not to fall a little bit in love with her, too. These are characters with depth that you care about."
Variety's critic, reviewing the show prior to its U.S. airing, is less enthusiastic. Brian Lowry called Parade's End "much weaker tea" than Downton Abbey but had high praise for the cast.
"Cumberbatch conveys intelligence and strained intensity like nobody's business, and Hall is equally terrific as the Jessica Rabbit-like Sylvia, who isn't necessarily bad; she's just drawn that way," Lowry wrote.
The show scored with critics in the UK and the first episode attracted a hefty 3.5 million viewers for BBC2, though ratings dipped to 1.8 million by the time the final episode concluded.
————————-
Do you plan to watch Parade's End?
————————-
Read More
Filed Under: