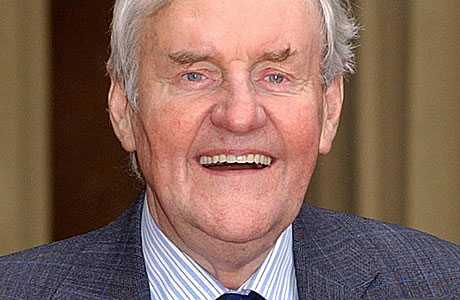 The sad news was announced a few hours ago that the actor Richard Briers has died, aged 79.
He was one of the most beloved actors in British cultural life, having made his name in two enormously popular sitcoms – The Good Life (renamed Good Neighbors for US TV) and Ever Decreaasing Circles – and adding his warm, distinctive voice to at least one iconic cartoon – it could be Watership Down, or Roobarb and Custard, take your pick. But he was also a formidable stage and film actor, working for Kenneth Branagh's Renaissance Theatre Company, and appearing in screen adaptations of Henry V, Mary Shelley's Frankenstein and, most recently Cockneys vs. Zombies.
His most enduring success, however, was as Tom Good, the born-again ecologist (and, by Richard's own admission, quite annoyingly pious smallholder-next-door) in the '70s comedy hit The Good Life:
And having won over the grown-ups, he set his sights on their children, lending his voice to the anarchic cartoon (with the best theme tune in the world) Roobarb and Custard: 
And in the '80s, there was Ever Decreasing Circles, another of Richard's 'annoying' comic characters:
Naturally, for an actor of his pedigree, there was an appearance on Doctor Who. Richard played the Chief Caretaker in the Seventh Doctor adventure Paradise Towers:
And more recently he even popped up in Torchwood:
Another sign of his status, playing himself as the high status insider at BAFTA, for a tense moment in Ricky Gervais's Extras:
http://www.youtube.com/watch?feature=player_detailpage&v=yixhgA6xfKQ#t=488s
Richard's colleagues have been quick to pay tribute on Twitter, with Stephen Fry calling him "the most adorable and funny man imaginable", and Ricky Gervais adding his own tribute: "RIP the wonderful Richard Briers."
But it's his impact on the British public that is the true measure of his worth. Tributes are flying across social media sites, people are genuinely upset, and that's because there's a real sense that we've lost one of the good ones. And for anyone who grew up in the '70s, it's as if a vital part of childhood has been lost forever.
Read More
Filed Under: