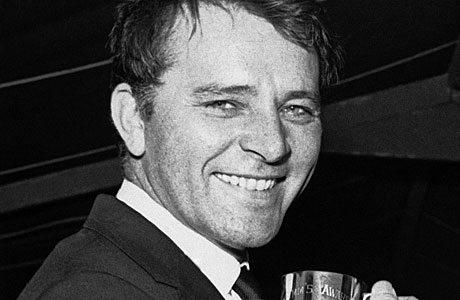 I don't wish to appear cynical about kind-hearted gestures, or long-standing historical wrongs that have finally been put right, but the news that Richard Burton is to be awarded a star on the prestigious Hollywood Walk of Fame on March 1, has raised at least one of my eyebrows so high it is currently keeping my neck warm.
Really? Richard Burton gets a star on the Hollywood Walk of Fame, in 2013? Some three decades after he died? Doesn't this raise some worrying questions about the validity of the whole 'stars in the pavement' scheme in the first place?
Questions like:
• Huh? Isn't he already there? Shouldn't someone go and check?
• Who else is missing from the list? If you can forget about a star of the magnitude of Richard Burton, shouldn't we have a quick check to see if, say, Humphrey Bogart made it? Should we check for Charlie Chaplin?
• How many stars are there on the list that really shouldn't have been there before Burton? I mean, Randy Newman has a star on the Walk of Fame. I love Randy Newman. I bow to no one in my appreciation of his salty songs (and his vinegary songs are even better), but I think even Randy Newman would be tempted to conclude that he's behind Richard Burton in the putting-your-name-in-a-star-on-the-floor stakes.
• Seriously, someone should check he's not already there…
• And if Burton really hasn't been there all this time, doesn't that rather undermine the symbolic prestige of the thing? It's like having a Rock 'n' Roll Hall of Fame and having to bother to induct the Beatles (which actually did happen, in 1988). Whoever you put in there before them looks ridiculous, as they're pretty much the gold standard by which rock 'n' roll fame is measured. The difference being, with the Rock 'n' Roll Hall of Fame, they at least had a mandatory 25 year rule between first hit and induction, so there was a logic at work.
And the fact that Burton's star is going to be put next to Elizabeth Taylor's does sort of indicate the organisers are aware that a historical oversight of fairly large proportion has taken place. Even the date that the star is being unveiled – St David's Day, and part of a wider celebration to commemorate the 50th anniversary of Cleopatra – reinforces the idea that this is something that should have happened years ago, that they were just waiting for the right alignment of anniversaries to present itself.
Not that anyone should take the Hollywood Walk of Fame too seriously, mind. There are names written on pavements all over the world. Most often with a stick, in wet cement.
Read More
Filed Under: