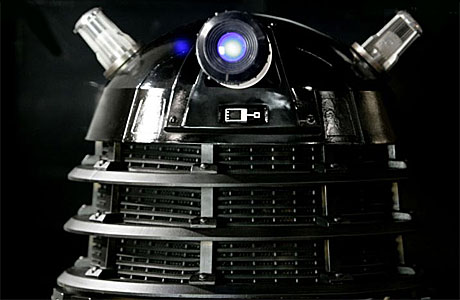 Here's a sad thing that came to light over the weekend. Raymond Cusick, the BBC production designer who came up with the idea for what the Daleks would look like and how they would move, by playing with a cruet set (and being, let's be honest, something of a genius), has died, aged 84.
Raymond worked on Doctor Who for three years, from the first episode in 1963, until 1966; coincidentally the year William Hartnell also left the show. He went on to work on many popular BBC TV shows, such as Z Cars, Dr Finlay's Casebook, The Forsyte Saga and Rentaghost, but it was his inspired design for these "satanic pepperpots" that is his largest single contribution to world culture.
The Daleks remain fundamentally unchanged after nearly 50 years of space rottery, and as we pointed out in our Rogues Gallery blog post a while ago, they are every bit as responsible for the enduring life of the show as the Doctor is for allowing them to exist in the first place.
(Note: that's a reference to the Fourth Doctor failing to prevent the development of his arch enemies in Genesis of the Daleks, which isn't really "the first place" but also kind of is. Time travel is the enemy of written sense.)
Here's Raymond visiting the Doctor Who props department, in 2008, in which he describes that fateful lunch with special effects creator Bill Roberts:
On hearing the news, Mark Gatiss tweeted: "Farewell to the great Ray Cusick. His passing is especially sad in this anniversary year but his creation remains immortal. Daleks forever!"
Read More
Filed Under: