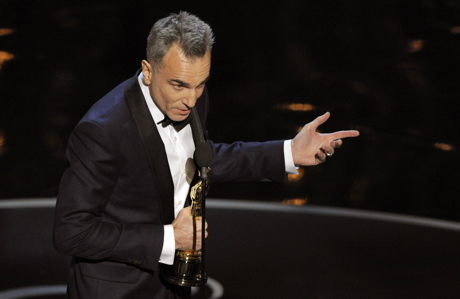 The biggest British-related award of the evening was the one that, as was widely expected, went to Daniel Day-Lewis as best actor in the title role of Lincoln.
His win seemed so inevitable, in fact, that it almost didn't feel surprising to those of us who watched at home as presenter Meryl Streep appeared to announce Day-Lewis's name without even opening the envelope.
With the acquisition of last night's statuette, Day-Lewis also set a new record as the first actor ever to win three Oscars for leading roles.
And just as Day-Lewis's portrayal of the 16th President of the United States in Steven Spielberg's film clearly won over the Academy, so too did his performance in his acceptance speech.
Referring to Streep's role in The Iron Lady, Day-Lewis joked that, "three years ago, before we decided to do a straight swap, I had been committed to play Margaret Thatcher." Then, after the laughter died down, he added: "Meryl was Steven's first choice for Lincoln. I'd like to see that version."
A second widely predicted award went to the Skyfall for best original song, which Adele also sang live at the ceremony.
Adele's song thus becomes the first Bond theme ever to win an Oscar. The title songs for Live and Let Die and The Spy Who Loved Me were both nominated, but they lost.
Skyfall also won for best sound editing, in an unusual tie with Zero Dark Thirty. The Academy says it's only the sixth time such a draw has ever happened, the most recent tie being in 1968 when Barbara Streisand and Katharine Hepburn both received best actress Oscars.
The Skyfall wins made the night an historic one for 007 at the Oscars. True, Bond fans were disappointed that Skyfall wasn't nominated in the best picture category, but it's the first time that a Bond movie has won an Academy Award in more than 45 years. The last 007 movie to win was Thunderball, in 1966, for best visual effects.
Sadly, as the Huffington Post observed, Skyfall's nomination in the cinematography category wasn't able to break an Oscar losing streak for British cinematographer Roger Deakins, who has been nominated ten times without a win.
For several weeks now, Bond fans had been expecting Shirley Bassey to sing in a special Bond anniversary tribute, and no one appears disappointed there. Bassey's all-out rendition of "Goldfinger" brought the house to its feet for the night's first standing ovation. And everyone seemed pleased that Halle Berry, a former Bond girl herself, introduced the tribute. But the long awaited Bond 50th anniversary celebration was probably not quite what Bond fans have been long a-waiting for.
Fan site MI-6 called the film montage "a limp and uninspired clip reel" and said it was "overlayed with unnecessary animation." The criticism seems a little harsh, but expectations for the segment had run high, with many fans looking forward to a landmark gathering of all six Bond actors – compared to which a standard Academy clip job seems lacking.

50 Years Of Bond – Salute & Goldfinger… by IdolxMuzic
But part of the problem may be that it would have been tough to top last summer's joint James Bond/Queen Elizabeth cameo in the Olympic opening ceremony, which itself felt like an elaborately produced Academy Award production number.
So, just how did Brits do last night in terms of actual awards? Let's try to break it down, all Nate Silver-like. As guidance, we can use a formula concocted by the British government's Foreign & Commonwealth Office in a recent blog post that quantified British success at the Academy Awards over time. The piece pointed out that over the last 30 years in the "major" categories, which they defined as the best picture, acting, directing, and writing awards, 43 wins have gone to Britain and Ireland, which, the article calculated, is a little bit more than one in six.
By the Foreign & Commonwealth Office's calculations, Daniel Day-Lewis's best actor Oscar would put the UK at just one out of eight this year.
But if you take into account all the awards given last night – including those that went to Les Misérables' British makeup/hairstyling and sound mixing teams, who took home two Oscars, and the one that went to Jacqueline Durran for Anna Karenina's costume design – that would be five out of 24.  And if you add in the best supporting actress win that went to Anne Hathaway, an American actress in a British movie, then you're up to six out of 24, equivalent to one out of four.
And of course there's really no way to quantify the contributions from British performers at the ceremony itself last night. In addition to the Bond song performers, a whole host of Brits and Commonwealth actors lit up the stage in the Les Miz medley (about 5:45 in the clip below), and, as always, Catherine Zeta-Jones sizzled as she did "All that Jazz" from Chicago:

Tribute To The Musicals – C Zeta Jones… by IdolxMuzic
Read More
Filed Under: