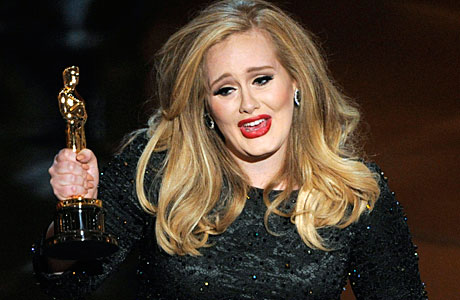 Look, by any standard of celebrity measurement Adele's doing perfectly fine, isn't she? A Golden Globe, an Oscar, an entire dinner service made of Grammys with Brits for salt & pepper grinders. It won't hurt her career, which is, to put it mildly, going from strength to strength, to maybe suggest that her mighty works aren't entirely made out of perfection and moonbeams, would it?
It's just there's something I've been desperate to get off my chest for AGES, and now seems a decent time to do it.
You see, there's a flaw in "Skyfall," her song from that James Bond film (I forget the name), and it's really starting to get in the way of things. Given that the song just won an Oscar, I can't really say what those things may be – are there any worlds left that this song can dominate? – but trust me, they're being obstructed and it's not on.
Here's her performance from last night's Oscars ceremony, see if you can spot it.
That's right, it's that third line in the chorus. She sings "let the sky fall," all statuesque and impervious, she sings "when it crumbles" and we're immediately struck at the clever way she has woven in a melodic reference back to the classic James Bond theme, and then she launches into that odd "we will stand tall" line, in which she delivers the word "tall" as if throwing up a wet cake from the summit of a particularly bumpy rollercoaster.
Seriously, go back and listen. It's like someone has snuck up behind her, and every time she gets to that note, they've poked her in the ribs. Both sides.
Once you've heard it, it becomes hard to surrender yourself to the immaculate joy of the rest of the song. That one soul-hiccup sticks out as badly and as clunkily as the outdated references to a "thunderdome" in Tina Turner's Mad Max 3-affiliated "We Don't Need Another Hero."
I guess the problem is, a good film franchise song needs to either be entirely embedded in the fabric of the movie from which it is taken, like "I Wanna Be Like You" from The Jungle Book, or indeed all of Les Miserables, or it needs to be able to fully exist as a separate entity. Randy Newman's Toy Story songs are a perfect example. Or even Paul McCartney's "Live and Let Die," which may namecheck the movie from which it is taken, but somehow manages to transcend the reference by being slightly unhinged.
By throwing in those melodic Bond references, and then failing to finish off her own melody properly, Adele finds herself caught between being entirely here, or entirely over there. And it's annoying.
Not enough to force her to give the statue back, but still…
Read More
Filed Under: