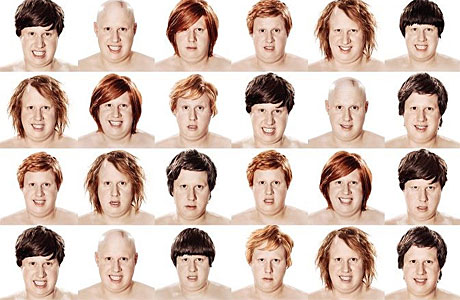 A couple of weeks ago, you may remember we were talking about Matt Lucas and Billy Crystal's new movie Small Apartments, which is directed by the notorious pop video director Jonas Akerlund, and seeks to make the most of Matt's unique skillset and physiognomy (by having him play the alpine horn in his underpants).
Well, last week we were offered the chance of a brief chat with Matt to discuss the movie and his career prospects in Hollywood and beyond. And this is what happened…
He began by describing how the movie came into being, from its earliest incarnation as a small novel, written to a ridiculous deadline:
"Small Apartments is written by Chris Millis and it's based on his own book, and that book won a prize. It was entered in a three-day novel writing competition, so I think it's a great surprise and delight for him that you can write a whole small novel in just three days, win a competition and then get it made into a feature.
"My character Franklin may or may not have killed his landlord, but one thing is for sure, the landlord is laying dead in his apartment. Bert — Billy Crystal's character — he has the job to try and work out how the landlord died, who, if anyone, is responsible, and whether Franklin will be caught or not, whether he'll escape or not, whether he did it or not. So that's the mystery, really."
Discussing how he was cast, Matt said: "I was asked to appear in the movie by (director) Jonas Akerlund, and that was a great compliment. I'm a big fan of the pop videos that he has made his name making. He's worked with people like Madonna, Lady Gaga, Rihanna, Christina Aguilera, Britney Spears. And if you watch the movie, you'll see that I have larger breasts than any of those people."
"One of the unusual things that Jonas does is, he has his own visual style. I think his feature film Spun is in the Guinness Book of Records for having the most number of edits in any one movie. That was about extreme drug use and I think he wanted to stimulate that effect. So although this film is a little less wired than that, he does have a distinct style. He very rarely moves the camera, he very rarely uses steadicam, he rarely uses tracking shots. He often keeps the camera absolutely still , and then just moves it forward, and forward, and forward for another take and another take. I think he's a great photographer and this shows. He's also a great editor, and this also shows."
As an actor and performer, you have such a unique profile and physical presence, are you conscious of where you can take it in somewhere like Hollywood, which tends to work on precedent..?

"In terms of the U.S., I think I'm realistic, that I'm a character actor over there. They don't have the history with me, so much, they don't have maybe the same knowledge of the work that I've done, so I don't necessarily walk into the kind of roles that I'd possibly get offered in the U.K. But to be honest with you, I just have an open mind. The nice thing is, because Little Britain was successful, because it was shown around the world, I can choose the work that I want to do, it gives me that freedom.
"So the nice thing is, I can do a film like Small Apartments, which is a low budget film, but that's OK. And I did an episode of Community, which is a show I love, and a couple of episodes of Portlandia. I just want to work with creative people, and have fun.
"What I don't have is the same approach I may have had 10 years ago in the U.K., which was 'I want to be a star, I want to be big in the world of comedy.' I'm much more relaxed about it. I don't necessarily take a job because it's a big project, I kind of do what I fancy, and that's a lovely position to be in. If I never did another job in America I wouldn't consider myself a failure. I'm happy with the way things have gone and I'm quite laid back about it, really. I'm the least career-minded person in Hollywood!"
Did it come as a surprise when the offers started to come in for things like Bridesmaids?

"It's very nice! What seems to have happened is that when I let my manager and agent know that I'm coming to town, then I arrive and there are some meetings and people say, 'Would you like to be in this?' and it's very nice. So I don't have a master plan out there. I have a home there and I have a home here, and I split my time pretty much half and half — a couple of months here and a couple of months in the States, and I just really like it.
"Over in California the climate is lovely and I sit outside quietly with my dogs, and I write. And in the U.K. it's a little more populated, in London, and my profile is higher. But I love the mix of the two, I love the contrast.
"One of the things I did a couple of years ago was set up a production company, which is based in the U.K., and we've actually started making TV shows and we've got films in development, so that's actually quite exciting, because I wasn't expecting it to take off as quickly and as successfully as it seems to have done. I enjoy just being creative, so that can be writing or producing, as well as performing."
Small Apartments is released on DVD today.
Read More
Filed Under: